I wanted to show you all the Spit I built a while ago.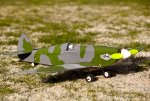 I've crashed it few times ever since and found some weak spots that needs reinforcing.. Wing tips for example. I don't know how durable that foam board with that paper on top is but mine cracked with the first crash. No worries, i just hotglued them back in. Next crash took the rubberband mounts with the wing.
I'm thinking of gluing some posterboard to the weakspots.
All in all it's a great plane, all crases were caused by me ^^ It looks great in the air and flies very well. 10/10