Inspiration:
During Family Day Trip to Wilmington, NC with my Mother, Step-Father and Sons, we stopped in to U.S.S. North Carolina. a WWII Battleship. Something I had passed EVERY time I went to Wilmington over the years living in NC. As the morning was cloudy and a bit rainy, it was a perfect way to spend a morning. (with the snake museum - Large collection of Crazy-deadly snakes) during the wet time to follow. I came around the rear gun turret to find to my immense surprise and delight a PLANE!
As I learned all about this craft, I learned it was the Vought OS2U - Kingfisher. A trainer-looking water craft sitting on the end of the rear deck.
(these are personal pictures from the trip.)
This whole thing fascinated me. I needed to know the
How's
and
Why's
of it!
Why: It slices, it dices, it juliennes fries
I found out (if you read the plaques) the craft was used for many roles during service. It was used for the mail, communications, AA artillery gun practice (see left of the left wing in the first pic), and most importantly Scouting missions, to see what they were coming onto. There is also a whole discussion on the landing techniques for the craft. the plane would signal in and the battleship would build a wake-runway in the water then swing around to the port for retrieval through a special skid and crane.
Above- Using the retrieval crane to mount the plane onto the Launch catapult.
How: Up, up and away
So now we understand how critical the Kingfisher's role was on the Battleships, The biggest challenge they faced was to safely launch this without a runway.
The short is - they used a powder actuated catapult. The pilots would angle into the wind, rev up the engine. and on "go", would cause a powder charge to explode and send the plane off the short length over the side. 0-70 mph (0-112 kph) in 68 feet (~20m). WOW - So Cool!
After that trip I was looking around, and I found a Sim Model (RF 7.5) and tried it. It Flew SO light and floaty. Just a relaxing joy to buzz around in on the sim. Also fun to practice water landings with! Since that point I've been wanting to design this up, build and fly it.
Historical Plans: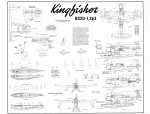 Real Pictures:
Project Goals:
Based on some talk here about building a 1:40th scale aircraft Carrier to land and launch planes from, I wanted to build a ~13.5" wingspan, yard-sized bird that would fit on that scale Battleship.
I wanted to double it to 30" for a C-pack size, to enjoy the fun I had in the sim in real life.
Build a scale sized powder actuated Launch Catapult!
Real - Life Plane Operational Parameters:
General characteristics​
Performance​
Armament​
R/C Operational Parameters:
A-Pack

C/B-Pack

Length: 13.5 in (34.2 cm)
Wingspan: 14.4" (36.6 cm)
Height: 6 in (16 cm)
Wing area: 44 in² (284 cm²)
Base weight: 5.3 oz. (150g)
Est. AUW: 7oz. (190g)
Motor: 1806, 2300kv / 1104, 7500kv (18g/ 6g)
Battery: 550 mAh 2S, 7.4V (36g)
Propeller: 3023x3 (5g)
ESC: 12a / 6A (9g / 5.5g)
Servos: - 2-4 5g (20g)

Length: 27.5 in (68 cm)
Wingspan: 30" (70 cm)
Height: 12 in (32 cm)
Wing area: 190 in² (12,258 cm²)
Base weight: 7 oz. (200g)
Est. AUW: 9.17 oz. (260g)
Motor: 2822/09, 900kv (34g)
Battery: 1500 mAh 3S, 11.1V (80g)
Propeller: 8x4.7 (5g)
ESC: 30A (12g)
Servos: - 4-6 9g (36-54g)
A-Pack Plans and Build
Alpha Build Plans
Alpha Build without electronics:
C-Pack Beta Plans and Build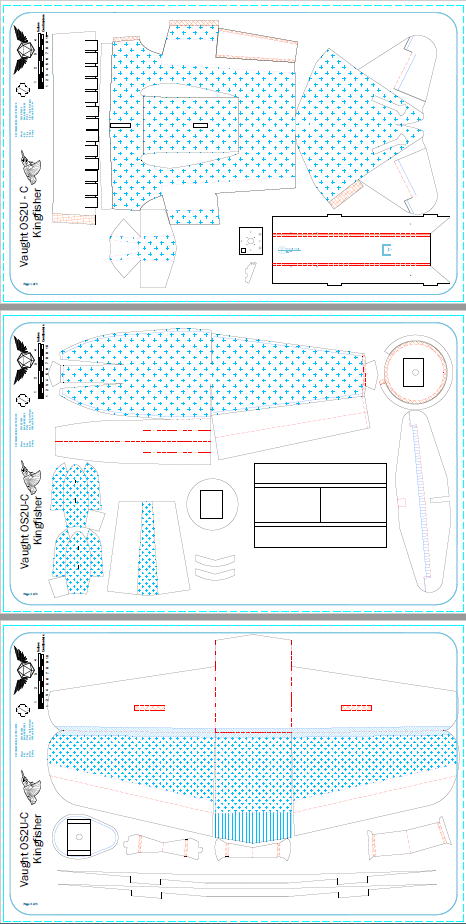 Plane Resource link:
https://forum.flitetest.com/index.php?resources/vought-os2u-kingfisher-by-foamydm.109/
Build Log:
(more details in the post below)
when you're done she'll look like this: (current picture is a progress picture.)
FTFC20 - Classic to Modern by FoamyDM (Plan conversion)
Come and Build one with me and let me know how it goes, as feedback is always a gift!
Last edited: