I got involved with this wonderful hobby back in 2015 & Flite Test has always been one of my main sources of RC based inspiration & entertainment. Even though it was already a little dated by the time I discovered multirotors, I always loved the Anycopter (& Electrohub) designs & for about 18 months I toyed with the idea of making something similar myself, but more up to date - making it out of carbon fibre & natively supporting today's miniquad electronics (20x20 & 30.5x30.5).
I kept putting it off, thinking it was beyond my abilities, until eventually earlier this year I just went for it - & the whole process has gone so much smoother than I ever hoped to dream it would!
Designed in SketchUp (I'm a complete scrub at CAD/3D modelling), prototypes printed on my Prusa i3 MK3, then the final version CNC cut from 2mm carbon fibre in Shenzhen. All my files are on Thingiverse - it only seemed right to share my work with the community, as it wouldn't exist without Flite Test's original free Anycopter design.
It may be decidedly oldschool, but this is by far the most rewarding & fulfilling multirotor project/build I've done to date - being involved in the whole design/prototyping/manufacturing stages of the frame, rather than buying something off the shelf, is absolutely an experience I can wholeheartedly recommend!
https://www.thingiverse.com/thing:3638846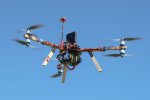 Last edited: