Hello friends, I open this thread to present the new dron that has joined that has joined songoland.
The folding drones have come to stay! , As you probably already have checked, manufacturers are putting the batteries,
Creating new models and testing new functions, maybe some touches are still missing, but one thing is clear, there are more and more
And more new models that are going to come out.
SkyTech TK110, Drone Foldable low price with a pretty interesting options. It has FPV wifi, as well as control of it.
Different flight modes and novel features such as flight plan or height control that works really well.
This Dron, peses be in the grade "toy" already has a large size, The plastic comes painted on the top and gives a little
More style. The truth about the top is pretty handsome, it's unfortunate not to be able to say the same thing from the bottom, which is quite simple.
Although it has some nice details like the protectors of the gears that give traction to the propellers. * But hey, details aside,
This dron, just for being foldable and can be used directly with a mobile phone, is placed above many of its competitors as well
In its first version.
The Tk110 mounts brushes motors, although they are powerful, hardly cause any damage, which makes it very good option for the most
Children or beginners. Also the helices are pretty soft, which when we talk about safety is a plus point in your favor.
(Especially if it is a dron to give it to children and leave it unattended)
Well before going into more details about this dk JKKT TK110 I show you what the box brings.
Video of the unboxing:
Package Contents:
1 x Quadcopter
1 x Transmitter
1 x USB Charging Cable
1 x Screwdriver
4 x Spare Propeller
4 x Propeller Guard
1 x Mobile Phone Holder
6 x Screw for Propeller Guard
1 x English Manual
FPV by wifi:
Well, here it seems to be improving! The app works quite well and one of the things I like most about this camera is that you can
Sementar easily, which in addition to making things much easier, because I think it improves notably the performance of the set in question.
Since if it is not going to be used, we can remove weight to the dorn and thus drag a little more time of flight.
Because we do not fool ourselves, you are not going to record a reportage of cinema with if it is what you expect. As a toy with this feature is interesting
And especially since it always spring to see the fpv of the camra in the mobile or to put some photo or video around.
Mount a 0.3MP camera that records at a resolution of 720p. * Not bad on a sunny day.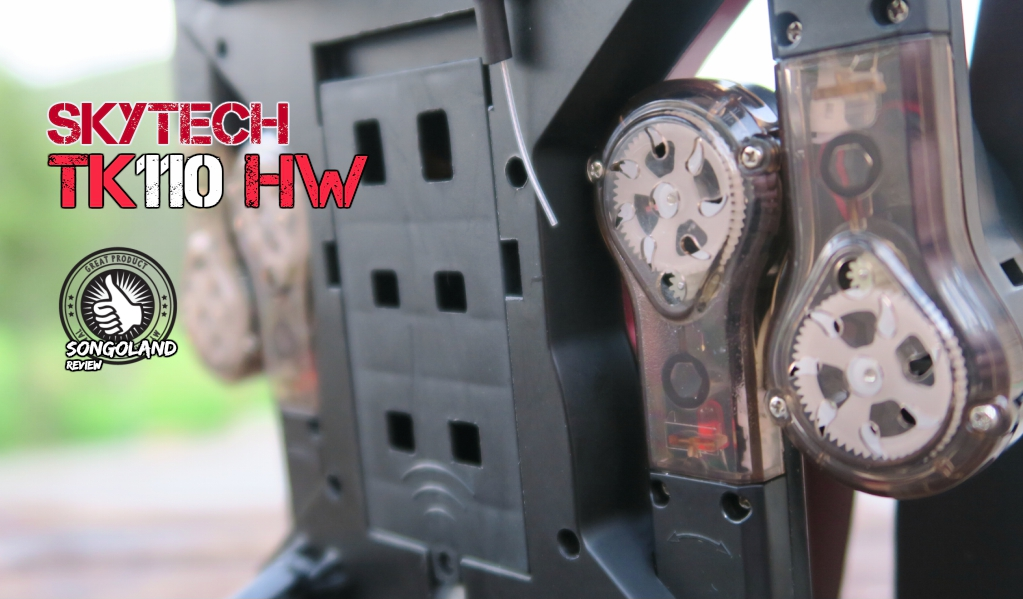 Height Control:
Well, here if you are happy with the work that has been done by JkkT, This function shows that it has already been mastered, and the dron maintains
Its height (even its position at home) perfectly, it is easy to fly by itself, but is that with this function, almost anyone even inexperienced can enjoy a flight easily.
Headless mode,
If at the height control we add a headless mode that works wonderfully, we are before a prefect dron to begin in the flights.
Easy to fly in this mode. It is also useful if the dron is far away and the orientation is lost. It is easier to bring it back.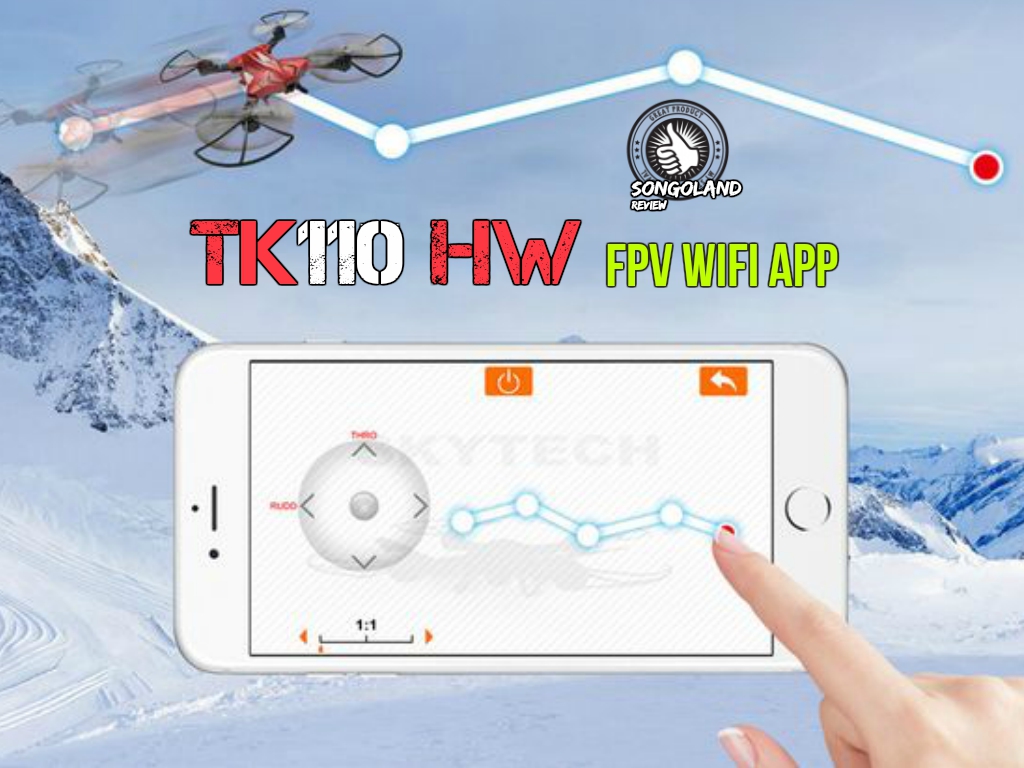 Phone app moivi:
This model can be controlled in several ways, one of them is directly from your phone, , even in this mode, there are several options,
Being able to control it with the gyroscope of the phone or on the virtual Sticks of the screen. The truth that very entertained and accomplished.
Each time these things work better with the app, although they still lack a little, fun is.
The app, has many options, such as button to record video, view dp fpv, land, take off or even tag you a spice
"Flight plan" painting with the finger the road you want to trace the dron. Do not get confused, this dron has no gps, so it's all based
In rubbings on the dron and the mobile phone. This option is fun, although I recommend using it in a clear place, that if something happens or the dron de va
To another place, because you can reduce it easily. The app is free and is ready to download.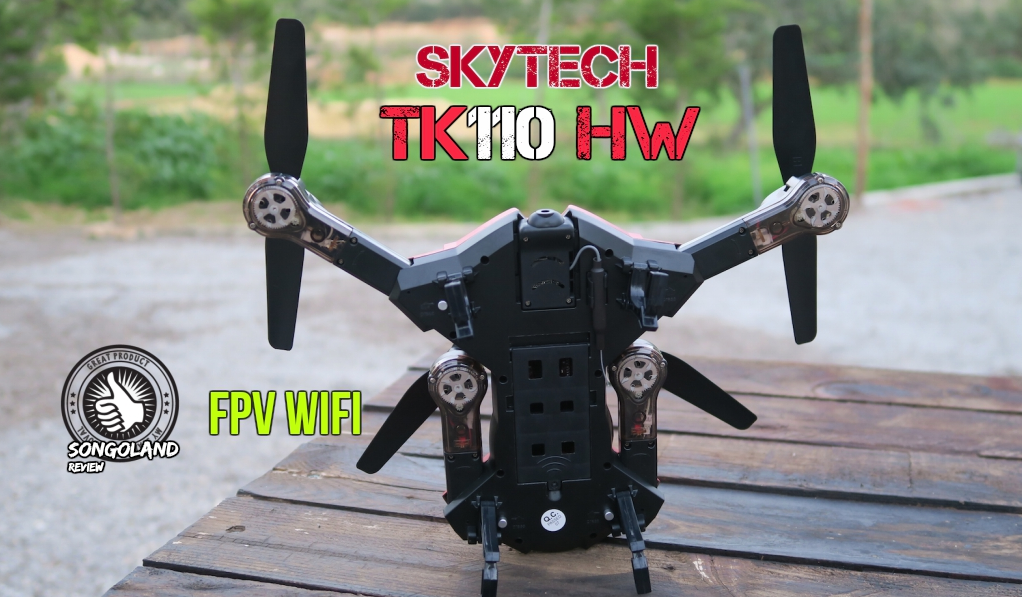 Auto takes off and landed.
Well, like most drones that keep up (or try) because this sum TK110 Skytech has the opicon to land and take off alone.
Little more to say, with a click, you have it in the air and vice versa to land. I personally do it in manual.
Automatic return home
Otherwise, this dron has an automatic return home, which works really well, if it is paired properly and the pilot respects the positones
Initials of the match. One click and it will come fired at you, useful sometimes, dangerous in others, ... this option is recommended to practice it
In an open space the first few times until you fully understand its operation.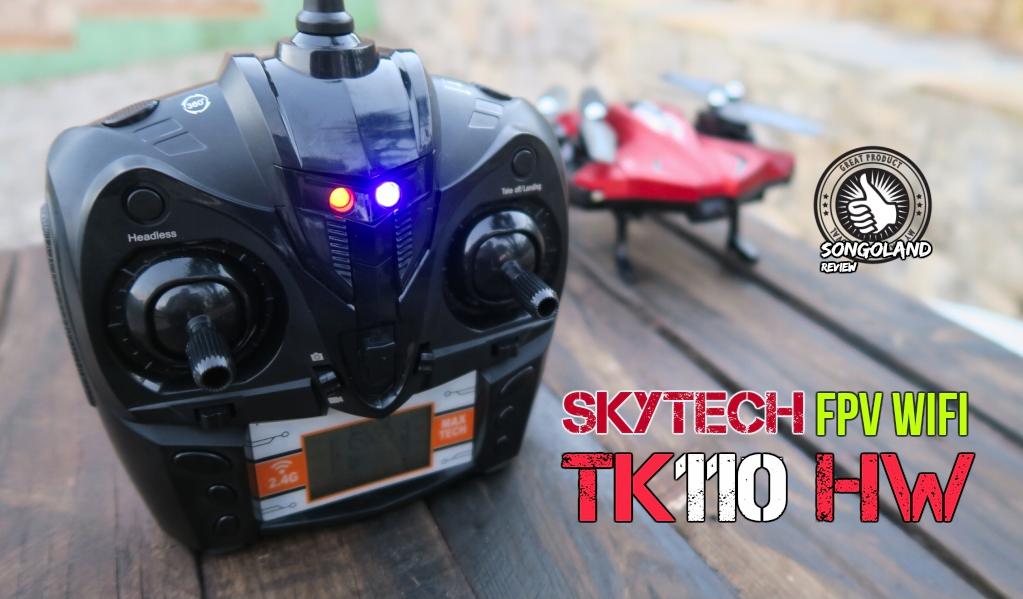 The command:
One of the characteristics of this dron is that it can be controlled in 3 different ways, with the nice command that comes with it, or with an app and a
Mobile phone or both at the same time (phone and command) The second option is perhaps a little more difficult to learn how to take it, but I would say
That anyone who knows how to fly with the remote minimally should not have problem in making it fly with the phone.
Everything is a matter of practice.
Two speeds
The drone has two forms of flight, one more calm and one more aggressive (advanced) in the last one, an experienced pilot can fly quite fast.
It is a light dron and in a day without wind, you can get to make flights to quite long distances.
The battery:
Battery: Flying Time: 7mins
Charging Time (h): 60mins
The battery, Runs a battery of 3.7V 850mAh, which gives for about 7 minutes of flight if we do not use the camera, Charging time about 60 minutes.
Here I leave a short list of what for me are its pros and cons
Pros
Dorn Foldable! Point
Can be used with a mobile phone (without remote control)
It has HD 270p camera
Impact resistant
Common batteries
Low price
Conts
Flight Time
Can not fold if installed guards
Related Links and Interest:
Links Relacionados y de interes:
Ofert at Rcmoment - SkyTech TK110 TkkJ:
http://bit.ly/2iEqG8F
Improvements to 3D printing:
http://bit.ly/songoku_Tingiverse
My other RC:
http://bit.ly/SongoLand