Edit: 11/10/2019
Version 3 plans available.
https://forum.flitetest.com/index.php?resources/mcb-racer.90/
I'm breaking a promise to myself; I'm posting another project.
After FFEast I was incredibly burnt out. Months of working on the Spirit of St Louis left me pretty tired. Losing my Cafe Racer to a radio failure at the event left me even more disheartened and questioning my choice of Spektrum and Orange receivers. A week later my versa-spear refused to pull out of a loop and stripped a servo. Accelerated stall, my fault. I was not confident in my radio or abilities. The choice in my mind was, do I improve my equipment, or, basically, give up.
I opted to buy a Taranis X9D+ and X8R receiver.
Not willing to risk any of my current models and wanting to tackle something simple after the Cafe Racer and Spirit builds I decided to tackle one of my favorite doodles.
The first iteration didn't work so well. I'm not entirely sure why. Test flight from a hand launch started and ended with a simultaneous uncontrollable climb and roll to the left, totaling the plane.
The wing was made thinner for a lower coefficient of lift which will hopefully reduce the climb tendency. I also moved the wing from a mid-wing configuration to a low-wing for ease of construction.
After building Version 2 I realized that the tapered wing led to some wash-in at the wingtips. I trimmed the ailerons up to help negate this error during testing. My working drawings have been updated to hopefully remove the underlying cause.
Of course, now I had a brand new Taranis and 8ch RX to play with, so I added flaps and played around with slowed flap deployment, flaperons, crow, etc. I wanted to add retracts, but didn't feel like spending any more on a prototype.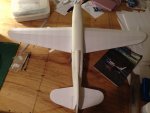 Completed V.2 next to the stripped V.1
V.2 Has not yet flown. I didn't have the weather before winter hit and Spring is still a ways off here in NY. So, despite my promise not to share another project before it had flown, here it is.
Incidentally, I'm looking for a naming scheme for my models, something to brand them as mine like Flite Test has FT and Nerdnic has NN. I was thinking MM for McBurney Manufacturing, but that gets confusing with Mountain Models...
Last edited: