Construire Voler S'écraser Répéter
Every week it seems there is a new 5" miniquad prop released, and it seems I may have an addiction to the hype train. I keep telling myself I need to settle in on one prop consistently, but I guess I'm still looking for the nirvana of great grip, decent power, and durability.
Needless to say, I was wondering if anyone else wanted to maybe start our own prop swap. Think secret Santa, without the secret. Members could pair up and mail each other a few new props to try out.
Here's my current stash
HQ 5x4.3x3 V1S - trying to make these my new favorite
HQ 5x4x4 V1S - tons of grip with these quad blades, easier to ding with an extra blade
HQ 5x4x3 V1S - very reliable, fairly durable
Gemfan 5051 - have not flown yet. I wonder if there's too much pitch and power for my 2522kv motors. I don't need "rip your face off speed"
Racekraft 5040x3 - these were sent to me on mistake. The profile looks similar to the old reliable HQ 5x4x3, but in a durable PC
Racekraft 5045x3 BN - I love these. Some may say BN are not effecient, but I always got decent flight times from these. They are the most durable by far
Cyclone 5046 - likely the most powerful tri-blades, but very heavy props. Need a torquey motor. They seem to dent, not break.
Azure PC "boomerangs" - first, they just look cool. Second, I really appreciate the mid-throttle power delivery (best in the bunch), but the top end really tapers off. However, they're likely the least durable. They bend at the hub and are tough to bend back. The tips can chip off easily too.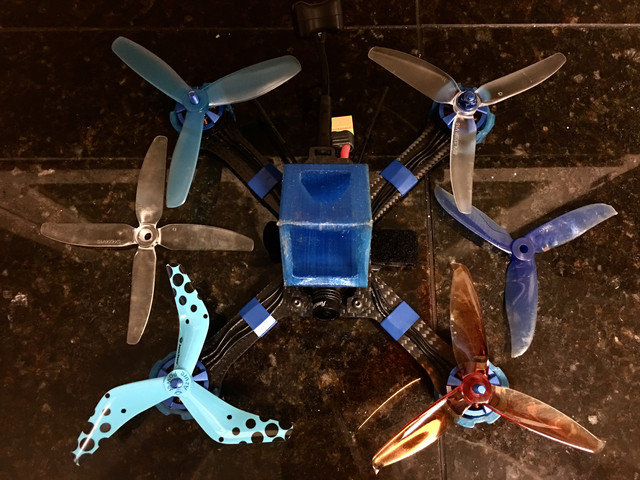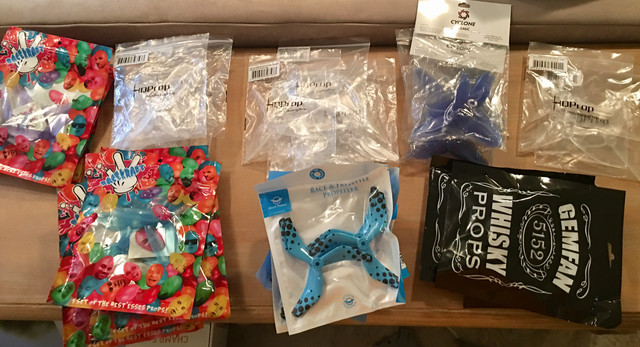 Let me know if anyone is interested.