I've had this fatty hanging from my ceiling from the past several months now. It's been the beater airplane for the last 3 or 4 flying seasons. I had an inkling it had some structural damage and plus the covering is really falling apart so it got retired for the last season, but now I think it deserves to have some life breathed back into it...
It doesn't look so bad from that angle. The other side isn't so happy.
Whatever Sig covers their ARFs in, it's really no good at all. The adhesive sucks and it's not very strong. Plus it leaves all kinds of blue gunk on the airframe you have to sand off. I tried blasting it off with a heat gun and all kinds of chemicals but sanding seems to be the only way to get it to leave. All the covering will be stripped off and replaced.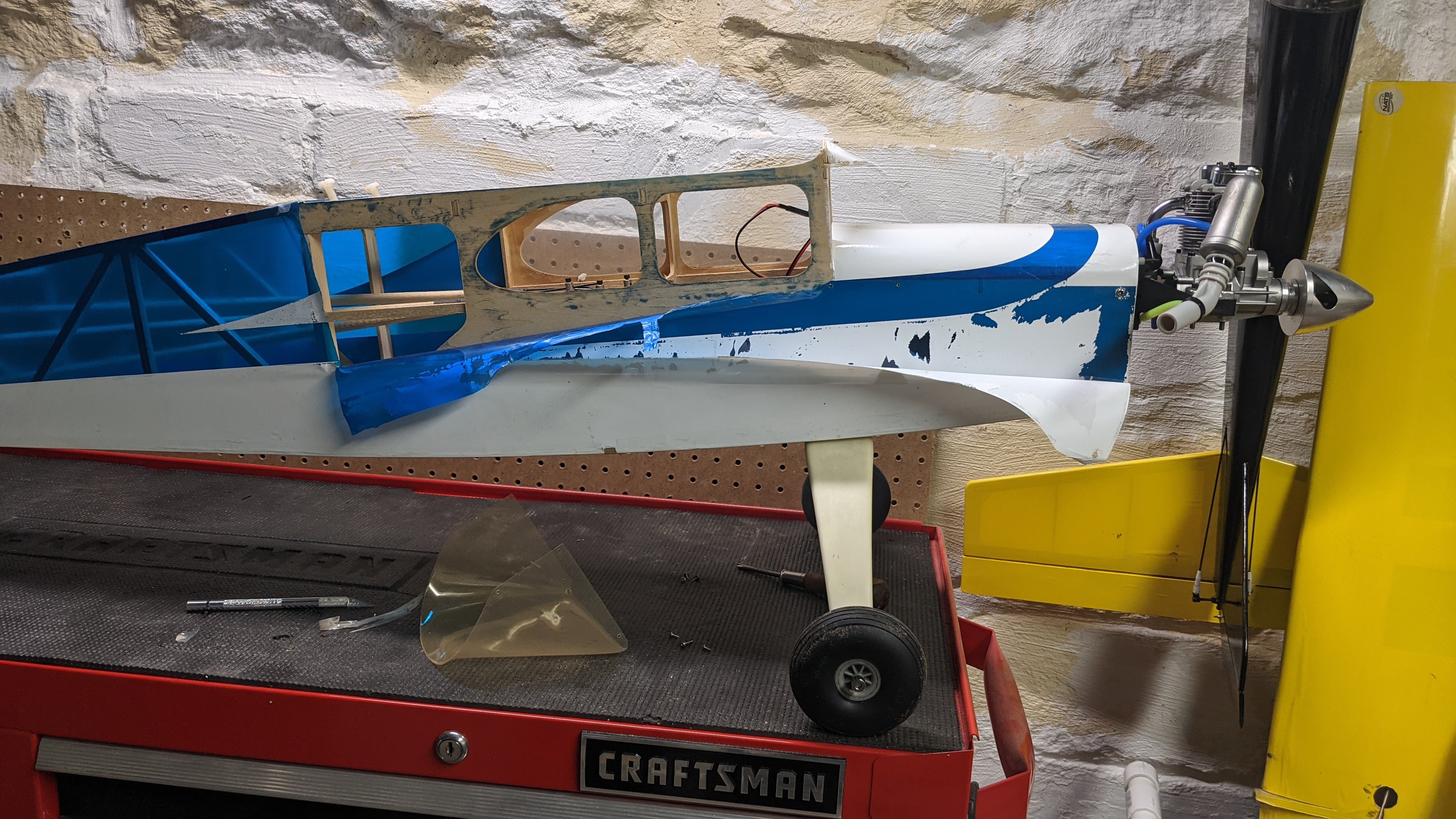 It didn't take long to realize that taking off the covering was a good idea. I thought the tail end might have a bit of problems structure wise... but this is quite a lot more severe than I anticipated. It turns out most of the tail was held together by the covering film. Can you count the number of broken joints? I can't believe I flew it like this without the tail just falling off.
I started cleaning up the rudder and elevator first, just to see how hard they were to get to the point that they could accept new covering. Took entirely too long but the result is ok I guess.
The hinges included are of the CA type. They were installed with too much gap (almost 1/8) and I'm going to replace them hopefully with Robart hinge points which would be a much more appropriate setup for a model of this size.
As for the coloring scheme I'll replace it with I have a few 5m rolls of Chinakote (it's the no-name stuff sold on Banggood which is surprisingly good actually) and I think I'll do something in orange and yellow, for good visibility.
This plane has a few other areas I want to change that I've honestly wanted to do for the entire time I've owned the thing. Probably the one I've wanted to do the most is a better gear and access to the tank. Whoever built this ARF many years ago epoxied the tank in! That'll have to go obviously. The current tank is only 8 ounces which quickly becomes empty when trying to feed a Saito 91, so I think I'll also end up replacing the tank itself. For better access to it I'll add a hatch in the bottom of the fuselage, which will also then allow me to mount the receiver and battery farther forward to eliminate some of the need for nose weight. Not having to play with the tank bung through the firewall means I can then seal the firewall completely against fuel. How I will do this exactly will be thought about soon. I'm thinking of epoxying sections of brass tube running through it...
On the gear; it's both too narrow and I don't like how it looks. I think what I'll do is either solder together some music wire gear with some plywood triangles to make it look sorta Cubbish... or maybe I'll buy the Robart cub gear. It would be kind of waste on a Kadet but at least then the suspension would be nice. I'm also going to fiberglass some wheel pants.
Speaking of fiberglass I need another cowling. The one I had on it before both had the engine hole cut to the wrong size (I've had about 5 engines on this plane) and the Saito on it currently is too long so the cowl couldn't fit anyway even if the cylinder fit. I've invested in vacuum bagging equipment lately so I'll use that.
I also want to build some floats for it. It's got very good low speed handling so it should do pretty well on them...
Last edited: