Building Fool-Flying Noob
Hi there, My local Club is having a Cub only Fun Fly next. Fortune would have it, I had the plans (for B and A sized) and components to go into both.
I will say I am not doing much different than Josh did. So I won't bore you. but based on the way the simple Scout (C sized) handled landings at my field, I will be reinforcing the landing gear.. A lot!
other than general build pics, I will highlight how I upped the landing gear game. Right now I am at the dreaded electronics, controller program phase.
'Nuff of this. "roll that juicy build footage" (pictures.)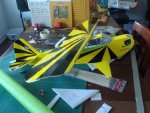 my plan is to use either craft sticks... or a credit card to line the slot I also have a credit card on the front and back which I added hot glue between all layers of the tab. The card-paper, paper-foam, foam-paper, paper-paper paper-foam... (you get it), of the landing gear tab.
the field can be a be rough. Also If I can in time, I want to add custom rear wheel for taxiing. like I did with my flying sub. It was Attached to a inner hole on the rudder servo. and a control horn glued to the top of the makeshift wheel.
based on my schedule, it will be Landing Gear and electronics on Sunday! which will finish it.
It's basic but now I can fly at the fun fly!
Please add your experience or 2 cents as needed, and thank you.