Some 3 years ago I bought my first electric RC plane - an RTF Art-Tech 4ch Wing Dragon. Brushed 480 motor and a 1000mAh 9.6V NiMh.
Simple and robust (almost crude) with a modest performance and limited endurance but it 'did what it said on the box'! As I fly from a rough grass field it soon became a hand launch/belly lander.
To my mind the solid foam wing was unduly heavy for what it offered. I had intended to make a new built up balsa one but at about the same time I came across 3mm Depron sheet. 1/10 the weight of balsa, very easy to cut and glues well. What if I simply made the new wing in exactly the same way but in Depron?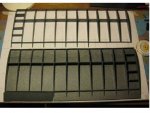 Exactly the same span (40")and chord as the original, with a standard Clark Y section the wing was thick enough to need no reinforcement. The skin would carry all the load - I hoped!
The only balsa was the leading edge.
5g aileron servos built in to the wing structure with just the tip of the servo horn protruding. With the horn angled forward by 45 degrees to give a differential (more up than down) aileron movement to reduce aileron yaw.
It gives a very smooth bland surface.
The ailerons are top hinged with sellotape that makes a simple and flexible hinge.
The new wing complete.
The new wing weighed just half the weight of the original and was aerodynamically more efficient so it now could actually glide quite well.
With differential ailerons the rudder was not really required so more weight was saved by removing the servo and its linkage so it became a 3ch 'bank and yank'. Note the repaired RH wing resulting from a high speed crash.
The weakest point on the Wing Dragon is its low set tailplane so I made up a 'elevator only' V tail.
This also reduced the drag a touch as the tail surfaces were no longer directly in the prop wash.
It was now a nearly 4 ounces lighter so had a performance well beyond stock and could be looped and rolled with ease.
Next brushless and LiPo.