Type

Skins & Decals (PDF, AI, SVN, etc.)
Rasterize Skin for the FT Mighty Mini Corsair - Major Gregory "Pappy" Boyington's F4U-1A Corsair
Lucybelle Size 11X17
On November 26, at Turtle Bay on Espiritu Santu, Boyington posed in the cockpit of plane #86, decorated with 20 little Rising Sun flags, and the word "Lu**belle" painted on the side. There's even a well circulated photograph of Pappy in the famous plane.
A bystander's arm obscures two letters of the word, which is believed by some to be either Lucybelle or Lulubelle.
So which is it?
At the time, Boyington was involved with Mrs. Lucy
Malcolmson, and Frank Walton (author: "
Once They Were Eagles: The Men of the Black Sheep Squadron")
recalled the name on the plane as Lucybelle. Makes sense, at the time. But after their messy break-up, Lucy kept $15,000 of Boyington's money that he had entrusted to her. In later years, Pappy stated that the name on the plane was Lulubelle. As Bruce Gamble put it, "He had about fifteen thousand reasons to forget Lucy, each one worth a dollar."
Need Proof? Here ya go.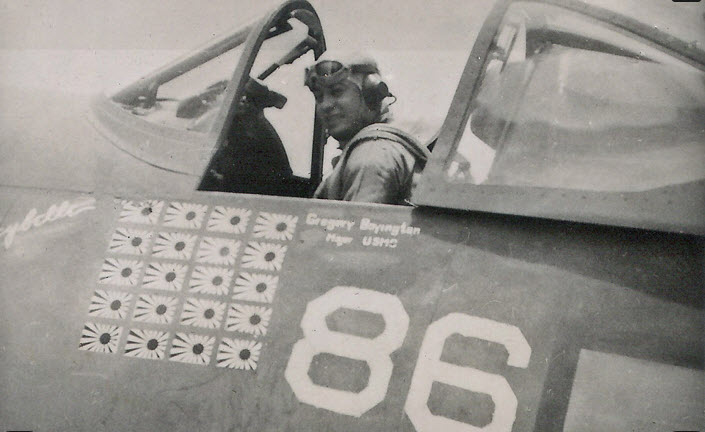 Granted, all you can see is the "cybelle" in the pic above with Black SHeep pilot James J. (Jim) Hill in the cockpit. Good enough for me. Lucybelle it is!
Being really nothing more than a "photo op." Boyington never flew #86 in combat.
In fact, the Marine fliers during the Solomons campaign flew any plane they could get. It wasn't like the Eighth Air Force in Europe, where each pilot had a personal plane and supporting crew. At the end of a thin supply line, largely dependent on Navy logistics, dedicating specific planes to specific pilots was a luxury the Marines just didn't have.
I grew up on a steady diet of "Baa Baa Black Sheep/Black Sheep Squadron". I even still have an original Revell 1/32 Black Sheep Corsair still in the box. I even got to met Boyington back when I was in high school. He was on a lecture/book signing tour. Needless to say, big fan. Here's to you Pappy.
Examples of skins below: