creator of virtual planes
I want to eventually turn this project into an article, but I thought I'd give everyone a preview with this thread.
This the fourth plane I've build with this concept. Technically it's the third version but it feels like the second version because I didn't like the first one I built and I never flew it.
The concept was simple. I wanted to build a good 3channel trainer out of a single sheet of foam board. I wanted it like a high wing noob tube. I also want to be able to modify the wings so it could be a 4channel. Something easy to build, easy to fly, and cheap.
That earlier version that I built two of looked and flew great, but I kept folding the wings. I had a 40" wingspan with a 6" chord and that was just too long and thin for Dollar Tree Foam Board to handle. So I opted to shorten the wings, but add a bottom plate of foam to strengthen the wing. I originally had 10" long wing tips with dihedral, but I brought them down to only 5". I loose looks, but I add strength to the wings.
Well, I don't want this thread to be too long. So here are some pictures of the final version.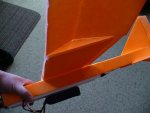 I flew it a few times today. The plane did bob around in the air but it was a little breezy. The shallow dihedral with the small wing tips seems to do the job though. The airfoil does provide a great slope rate. I flew with a 2.2amp 3cell battery with an 8x4 prop. It provided plenty of speed but the plane still could go slow and fly great.
I didn't record any video of it yet. I want to eventually record a bunch, edit a good video showing off the plane, and then build another one to either get a build video or just a build log, and then put that all together into an article.
If you want the plans now I can provide them. If the tail of this plane looks familiar, it's because the rudder and elevator are exactly the same as the FT Flyer. I knew by coping existing plans for parts it would be easier to build and to print off and transfer the plans.