This was my "quarantine build" in early 2020, and I'm so happy with how it came out! It's big, about 7ft long and 4ft span, but it actually is a fairly simple build. The fuselage is simplified, square cross section, but its presence in the air is undiminished.
Instead of sitting on the plans 'til they're "perfect" (which never happens), I figure I'll get this out to you all, because I'm already getting asked about them.
The plans are fairly simple, but I had to make some in-situ modifications to incorporate the landing gear, but I tried to document what I did in pictures. Feel free to ask questions here if you actually attempt this build.
This build ended up being just about 13.5lbs AUW with batteries and everything, and pushed just over 7lbs of static thrust. Even with that fairly low thrust/weight ratio, it still boogied in the air!
It's powered by four 70mm EDFs, and I used my trusty FMS 12-blade 4S units. They are actually the last four leftover EDFs from my Valkyrie project years ago. I also recycled the landing gear from the Valkyrie. I used Power-UP 100A ESCs because they're cheap and seem to perform well, and I like more headroom on my ESCs, especially for EDFs. Batteries are 4S, usually running two 5000mAh packs, but any similar sized packs will do.
Alright, enough jabber; here's the build!
Note: In the ZIP file for plans, I've just included the thrust-tube layout from my F-18, since the B-58 uses the same thrust tube. It may need a little trimming.
Basic nose and fuselage buildup:
Landing gear layout and internal structure:
More wing internal details:
Some close-ups of the latch I designed and 3D-printed for the hatches:
Maiden day!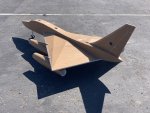 This was the extent of the damage from first flight. Easily repairable. I inserted some 2x4 sections to bolster the paint-stick mounts, and screwed the retracts back in with 1.5" drywall screws.
After repairing the mains I decided it was alright to do some paint, and took it out for another flight the next weekend:
Last edited: