Description
The goal of the project was to make use of a couple of old ~450W+ motors (Dualsky XM3548CA-5 850kV and Turnigy C3548 900kV) and four 4s 2300mAh LiFe battery packs that have been lying around idle for several years now. Since this stuff is pretty heavy, and since I like biplanes, it was an easy decision to build a biplane for a good lift/weight ratio, while trying to make it as aerobatic as possible.
With the local variety of foamboard also being somewhat on the heavier side the total flying weight of the plane turned out higher than I had hoped, but I guess this is par for the course for almost any design
.
However, the wing loading still falls well within acceptable range for aerobatic performance, and the Balrog flies quite well. On the old and heavy LiFePo (those are made with the original A123 cells) it only draws ~28Amps with a 12x6 prop and is a bit sluggish, so let's just say it can be considered an advanced aileron trainer
. Haven't tried it with a bigger prop yet, but my strong suspicion is the limitation is on the battery side.
But with 4s LiPos (I tested it with Turnigy 2200mAh 4s packs) it simply becomes a different beast, quick, agile, easy vertical climb (I was able to hover it for ~30s at approx. 80% throttle).
This
video
was filmed during the second flight, with LiFe batteries (I apologise for the horrendous quality, it was filmed with a phone and impossible to focus properly)
Specs
Wingspan: 1100mm (43.3")
Length: 1050mm (41.3")
Wing Area: 41.4 dm2 (642 sq.in.)
Flying weight: 2.02 kg (71.3 oz)
Wing loading: 48.8g/dm2 (16 oz/sq. ft.)
Wing cube loading 7.6 (~10.0 when adjusted for biplane wing efficiency)
Motor: Dualsky XM3548CA-5 850kV 650W, 40A max
ESC: Turnigy Plush 60A with external 3/5A Turnigy switching UBEC set at 6.0V
Servos: 4 x Power HD 2216 MG 15.8g digital metal gear servos (3.9kg-cm)
Prop: 12x6 APC E
Battery: 13.2V 4s LiFe, or 14.8V 4s LiPo 2200-3300mAH for full aerobatic performance
Features / flying characteristics
* Foamboard construction reinforced with balsa+plywood internal structure and wing supports
* Fully symmetrical airfoil for aerobatics
* "Shark teeth" (idea stolen form Flex Innovations' Mamba) for gentle stall / high AOA performance
* Both wings are mounted with nylon screws, detachable for transport and (hopefully) during any serious crash
The initial flights required about 7% elevator up trim, the other trims were perfect at 0%. A very slight increase in side-thrust and decrease in downthrust, for perfectly straight tracking, is probably on the cards at some time, but not really an issue anyway.
A degree of adverse yaw in turns was experienced, making rudder input desirable to necessary. Should be fixed with programming in some aileron differential and maybe a slight CoG adjustment (which will likely also be needed for knife edge)
Stalls are very smooth and gentle with no wing dropping tendencies (possibly due to the "shark teeth") - as seen in the
video
(high/heavy landing)
Moderate flaperon deflection for landing (~10deg) caused no visible change in pitch during approach - further experimentation needed
Tracking is very good both in normal and inverted flight
Very stable in hover in windless conditions.
The only worrying issue is pretty heavy downward (away form cockpit) coupling in knife edge; there's some room to alleviate it by moving the battery (i.e. CoG) forward a centimeter or so, but ultimately some mixing and/or attentive flying in order to hold KE will be required.
Build photos
Laminated carbon/fiberglass landing gear: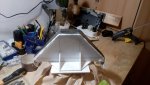 Fuselage balsa/plywood internal structure:
Lower wing construction:
Fuselage continued:
Upper wing and wing struts/supports:
Tail, engine cowling, complete fuselage: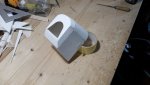 Spray painting: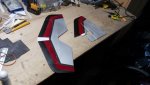 Removable top cover, motor+ESC mount, control rods, shark teeth and the pilot
:
Completed:
Last edited: