This thread is for sharing progress, comments and suggestions on building Stout Trainer. I posted an article on the design on 11-08-15.
This design is a 60" span high wing medium to advanced aerobatic trainer. It looks like this:
I have received comments from a couple of members who are currently building.
Thanks to jalkin for suggesting a change in the Building Sequence. He is building the Stout trainer and ran into an akward situation. I had placed installing part G ahead of parts H (X4) which made the smaller parts hard to install. I have revised the Building Sequence to correct that problem.
Here are a couple of shots showing the parts in question: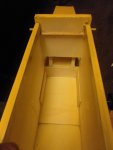 The small pieces attached to the ramp in the center of the picture are parts "H". They receive and guide the back end ot the power pod to position it and keep it centered. G is the lid of the space. I had placed installation of G ahead of the 4 H pieces which made them harder to install.
If anyone else is building or interested in doing so please leave any questions or comments here.
Last edited: