Building Fool-Flying Noob
Since I have managed to eek out success with my Taylor Aerocar design with the assistance of Fiddler's green paper model, I have turn my eyes to the roadable aircraft concepts.
The next one that I saw and thought
... THAT could be made of Foam - FAST!
ITS the CARPLANE®
Wings tuck away from driving and help down thrust at high speeds. and in 15 minutes... the are locked in and ready to fly!
It isn't just a Concept. it has been flown!
History
(from
http:\\www.carplane.com
and
Wiki
)
Wiki:
The
Carplane GmbH Carplane
is a
German
roadable aircraft
under development by
Carplane GmbH
of
Braunschweig
. The aircraft is intended to be supplied complete and ready-to-fly.
The nearly complete prototype was first shown at the
AERO Friedrichshafen
show in 2015.
Design and development
The design is intended to be
certified
as an
EASA CS-VLA
Very Light Aircraft under
EASA
airworthiness rules. It may also be put in the US
light-sport aircraft
category under a weight exemption.
[2]
The Carplane features a folding cantilever
high-wing
, two individual single-seat enclosed cockpits in
side-by-side configuration
in separate
fuselages
with individual
bubble canopies
. It has fixed quadracycle
landing gear
with 38.1 cm (15 in) wheels and a single engine in
pusher configuration
.
[1]
The twin fuselage design is intended to produce a vehicle that will drive as well as any compact car, while allowing space for the wings to fold and to store between the two fuselages, thus improving road aerodynamics and lower
centre of gravity
.
[2]
[3]
The aircraft is made from composites. Its 9.715 m (31.9 ft) span wing has an area of 10.72 m2 (115.4 sq ft) and can be extended in 20 seconds from road mode to aircraft mode. The standard engine used is a 130 hp (97 kW)
LSA-Engines LSA850-130
gasoline two-cylinder
four-stroke
850 cc (52 cu in) powerplant.
[1]
[4]
Funding for the development is being provided by the
European Union
and the German state of
Lower Saxony
.
[3]
Company Website:
No Folding/Reduction/Exposure of Critical Parts
Carplane®'s patented wing deployment mechanism simply automates what glider pilots do when they tow their planes to airstrips and manually attach the wings. The advantage over other concepts is that the wings/rotors aren't folded (i.e., they remain in one piece). This reduces weight and increases safety.
By storing the wings along the length of the vehicle at an upward angle, Carplane® achieves the longest possible, unsegmented wing length within the confines of a normal car. This reduces wing loading and increases aspect ratio, thereby enhancing both safety and performance.
By storing the wings between two hulls, they're protected from damage.
Extra-STOL Performance
Carplane®'s takeoff distance is extra-short because it uses both its rear wheels and its propeller to accelerate.
Compared to other planes, Carplane®'s landing distance is extra-short due to disc brakes on 4 (rather than 3) wheels with block (rather than balloon) tires. Braking effectiveness is further increased by flaps which can be deployed beyond neutral to an "up" position to create downforce after touchdown.
Why Two Fuselages?
Carplane®'s twin hulls aren't merely a design feature but, rather, a
key element
enabling
real driving
as opposed to "
taxiing to the next airstrip
". Carplane® rejects poor driving performance as a "compromise". This distinguishes Carplane® from most other concepts.
Carplane®'s specifications call for a two-person bimodal vehicle:
with 2 whole (i.e. not folded) wings (min. 5m² ea., to be easy to fly);
4 large roadwheels (min. 15") with block (not balloon) tires (for road performance);
fits in a standard-size home garage (i.e. max. 6mL/3mW/2.4mH);
flies well (at least as good as a training aircraft) &
drives well (at least as good as a compact car).
Analysis of many possible layouts revealed that these specifications are best met when employing a twin-hull configuration. Here are two examples:
a). Fast, stable road travel depends on how the wings are stored:
if they're stored underneath, they're too small (=hard to fly) & the number of wheels is limited to only three;
if they're stored above, they create lift in road mode and make the vehicle too high for most underground parking (max. allowed height 2.1m) or if stored behind a cabin they're too short (affecting safety and performance);
if they're stored on the side, they limit the field of vision or create crosswind instability and, if they're stored further aft, they make the vehicle too long and may lead to weather-cocking.
Storing them between two hulls at a wedge-like angle to the ground creates aerodynamic downdraft, protects the wings from damage and enables high road speeds.
b). Two hulls provide the most drag-efficient housing for a wheelbase consisting of four large roadwheels.
Carplane® is fully aware that some recreational customers may initially question separate cabins (business customers already have cabins separate from their drivers/pilots). However, this layout provides the performance which Carplane® deems necessary for success. For Carplane®, the choice isn't: "
one or two hulls?
"; but: "
unsatisfatory performance or two hulls?
".
SPECIFICATIONS

Technical Specifications (air mode)


Technical Specifications (road mode)


Designation: Carplane®
Type: Single engine, roadable monoplane
Features: Retractable wings & empennage
Seats: 2
Landing gear: 4 non-retractable 15" road wheels
Length/Länge: 7.453 m
Height/Höhe: 1.890 m
Wing span/Spannweite: 9.715 m
Gross wing area/Fläche: 10.72 m² (115.4 sq ft)
Weight empty/Leergew.: 498 kg (1,097 lb)
MTOW/Startgewicht: 750 kg (1,653 lb) VLA Category
Engine/Antrieb: PC850, 151hp
Propeller: 1.68 m (5 ft 6¼ in), 4 blades, foldable
Max fuel weight: 72 kg (158 lb), 100 litres (26.4 US gallons)
T-O run: 85 m (279 ft) (est)
Landing run: 85 m (279 ft) (est)
Range: 450 n miles (833 km; 517 miles) (est)
Rate of climb: 351 m/min (1,150 ft/min) (est)
Service ceiling: 4,570 m (15,000 ft) (est) [OEI]
Max level speed: 120 kt (222 km/h; 138 mph) (est)
Cruising speed: 108 kt (200 km/h; 125 mph) (est)
Stalling speed: 36 kt (66.3 km/h; 41.4 mph) (est)
No exemptions are required for air certification.


Type: M-1* category road vehicle (*passenger car)
Top speed: 176 km/h
Particle emissions: EURO-5
Width: 2,25m
Length: 5,44m
Height: 2,12m


RC Model
Length: 26.5 in
Wingspan: 55 in
Wing area: 154in
Weight: 200g(projected)
AUW: 350g (projected)
Wing Loading 8.5 oz/sf
Cubic Wing Loading: 7.04



RC Model
Length:20"
Width:8"
WheelBase:8"
Proportional Steering

eCalc setup
eClac CG finder
CG at the chord as expected. 1.75 - 2" from LE
on Cubic Loading for General Performance:
A 7 means it is likely to behave like a motorized sail plane.
Plans:
Alpha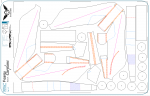 4/4/21 - THESE HAVE NOT BEEN BUILT! Build at your own Risk
Inspiration:

http://carplane.com/
Build Log
4/4
Plans are finished (not polished) and read to test the build and see if it flies.
4/5
Plans are printed and mounted ready for cutting.
Is that It?
Don't worry, there are plenty of concepts to try after this there will be more I'm sure
Last edited: