So a bit over a month ago I got a message on here from someone at Banggood asking if I'd be interested in reviewing a battery charger. I gave him my usual warning that I can't promise a positive review and there are any issues with what they send me or it turns out to be junk I'm going to say so. He said no problem, he's confident in this product and doubted I'd have any issues with it, then sent me a link to check it out:
http://bit.lc/4lUl
Ok, sounds kind of interesting. I've already got my trust accucell 6 and was hoping to get a newer nicer charger soon since the old girl was starting to show her age for sure. I wanted something nicer than another 4 button but...the extra features on this one intrigued me...foam cut, motor driver, and...oh...Internal Resistance Measurement. Got my interest now. And what's that USB port on the side...hmm...alright, ya got my interest let's review this bad boy!
The last few review items I've been sent were sent out express and showed up in just a few days. This was the first thing banggood sent me and they did send it nicer shipping than the standard free...but through some quirk of international shipping it still took longer to get to me than other things I ordered about the same time with free shipping. Oh well, I'm not paying for it and I'm in no big rush so no complaints.
When it did arrive it came in what I've come to think of as standard banggood shipping, meaning a nice padded pouch and not much more. The pouch showed signs of a rough trip, but no rattles and inside the box looked good:
Inside was a manual. Yes. An actual printed manual. In English. English. NOT Chinglish! I was shocked. It's not perfect English but it's better than some things I've seen written by native speakers
No mention of the USB port that intrigued me anywhere in the manual...but it does go through all of the menus and explain things quite well. By far the best manual I've seen from a made in China product, huge huge thumbs up for that extra bit of effort!
Also inside was...surprise surprise...a charger!
And right there you can see the one and only complaint I have about this thing. The input leads. They're not removable. Currently all of my charging is 2200 3s packs and smaller, I seldom do parallel charging on anything but 1s packs so my power requirements aren't all that impressive. I use a 4.5a 12v power cube that came with a 10-15 year old Energizer NiMh charger to power my charger most of the time. It's nothing fancy but I had it on hand and it's enough for my meager needs. Which means I don't need those nice heavy 14awg input leads. They just get in my way. I wish I could remove them when I don't need them.
They are however nice to have. One of the interesting tricks this charger can do is discharge at higher rates than normal by pushing current back into a source battery. That way you don't have to worry about the resistors inside burning off all the power as heat. And if you accidentally discharge your car battery too much but still have some cells charged...you can push the charge back into the car without swapping cables around. Nice trick! I'd still like to be able to remove those cables when I don't need them though, but that's probably just me.
Another nice touch in the box are the leads it comes with:
From the top that's a JST/JR Servo combo - nice for my smaller packs and TX batteries.
Good old XT60 male for most of my packs.
Deans, for collecting all the dust. I know I know...they're more efficient. But I've never been a fan.
And at the bottom two big battery clamps that had me wondering if they fell off or were a mistake...until I took a closer look:
Ah....They've got female bullet connectors that match the banana plugs on the input leads. Not the prettiest soldering job but should be plenty adequate. Neat touch I haven't seen before that gives some good versatility - in fact I've already (ab)used them in some interesting ways
The Deans connector is not a real deans. It does fit the deans plugs I have on hand to test with (a few of which I suspect are legit) but the plastic feels cheep and is slippery making an already difficult to disconnect plug even harder to disconnect. I'm biased against deans but frankly I'd have rather had just about anything else instead. Better than nothing if you've got a bunch of deans stuff though: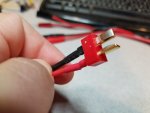 The charge cords are all 16awg, not the beefiest, but for the power abilities of this charger should be plenty adequate.
Right side of the charger is basically identical to my old Accucell with a grid of the standard JST-XH balance connectors and female banana sockets for the main output. One nice touch on the firmware in this guy compared to my accucell is that it auto detects which balance port your pack is plugged into and sets the battery type accordingly, so you don't have to set 1s/2s/3s... manually. Little detail but nice.
The other side is a bit fancier than my old Accucel. Same DC in jack on the left, but with a warning that it's only good for 6A. It's protected by a self-resetting fuse so should be no permanent damage if you go over, but I'm not going to test it
Next to that is the standard 3 pin temp sensor connector, one of these days I'll have to wire up a temp sensor just to test that but it's a feature I've never really used. Then the main input leads rated for 10-18v, so sorry to you guys who use a 24v power supply
And finally that USB connector....I wonder....
The front is basically your standard 4 button charger...and just like my old accucell they have some protective film on the LCD...which can't really be removed without opening the case. Yeah, you could try to get it off without opening the case...but chances are you'll scratch the screen doing so.
Well, the case is just 8 screws total, and to get the film of nice you only have to undo the top 4 and lift the top off.
I'm no EEVBlog but....let's go ahead and open this up. I want to see if their claim of genuine Rubycon caps is even remotely true
But I'll save that for the next post. I will say this, I've been playing with this charger for almost a month and I like it more and more. I don't have a lot of high end test gear, but some guys with better gear than me on RCGroups have already put it to the test and found that it's a very nice charger that so far samples have been dead on out of the box for calibration. You can get into the menus and adjust the calibration, but unless you've got a really accurate voltage source or voltage meter chances are you'll just make it worse (unlike my accucell which was far enough off even a cheap harbor freight volt meter would help calibrate it better.)
So I have no reservations about sharing that link again and saying I would gladly recommend this charger to someone just starting out or looking for a nice compact field charger. The price is currently around $50 with free shipping which is not bad at all compared to a lot of the other chargers out there. Especially since this has those extra features we'll be looking at soon!
Ok - next post...let's look inside. Then...we can start playing with it