Hi I'm fairly new to the RC plane world but having fun building these cheep foam board planes. I feel much better when I crash them as I just swap out the Motor pod and go on to the next one. Here's a few pics.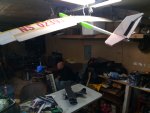 I'm wanting to build a F-35 double this size. Do you guys,gals think somebody could hook me up with building plans for double this one?
I'm not sure what scale this is either. Thanks.