Building Fool-Flying Noob
This week I managed to open my mouth and agree to a challenge to build a DTFB model of a 150" Wingspan Ford Trimotor
Why this plane?:
A long while ago, Ron and Tom from the RC plane Lab Podcast (great podcast) announced in Episode 56 (Feb 12th of 2021) That they were going to build a Ford Trimotor with a 145" wingspan! They have ordered the Balsa... and other than motor talk, that is really all that we heard. After hearing that episode, I thought it would be a fun and loving poke to design an all-foam Larger model. I have three (one on the way) 5010 with 15x5.5 CF props (made for an agricultural drone) and this project looks like a great choice for them, and a great challenge for me.
vs,
Plane History:
First flight - June 11, 1926
Manufactured by Stout Metal Airplane Division of the Ford Motor Company
William Bushnell Stout sent a letter to several leading manufacturers asking for $1,000 investment with the statement "For you one thousand dollars you will get one definite promise: You will never get your money back." Presumably to start the Stout Metal Airplane Company.
All-metal constructions. Exterior skin was corrugated aluminum. Increased drag from the corrugation caused reduction in overall performance.
Interesting bit, the fuselage and wings followed designs by Junkers used in their Junkers J.I, Junkers F.13, Junkers K 16, and Junkers G 24. Junkers sued Ford when Ford attempted to export the Trimotor to Europe and won due to how similarly the Trimotor was to Junkers designs.
Designed primarily for passenger use (11 passengers), was easily adapted for hauling cargo. The inside of the wings could be accessed from the inside of the fuselage for baggage space.
As the name suggests, had 3 motors. Could run without the center engine well enough, but losing one of the side motors was far more problematic.
Utilized a hand operated "Johnny brake." with such a long handle it needed to be passed to the co-pilot to operate effectivly.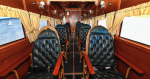 General characteristics
Crew: 3 (pilot, co-pilot, flight attendant)
Capacity: 11 passengers
Length: 49 ft 10 in (15.19 m)
Wingspan: 74 ft 0 in (22.56 m)
Height: 11 ft 9 in (3.58 m)
Cabin length: 16 ft 3 in (5 m)
Cabin width (average): 4 ft 6 in (1 m)
Cabin height (average): 6 ft 0 in (2 m)
Cabin volume: 461 cu ft (13 m3)
Empty weight: 6,500 lb (2,948 kg)
Gross weight: 10,130 lb (4,595 kg)
Fuel capacity: 231 US gal (192 imp gal; 874 l)
Oil capacity: 24 US gal (20 imp gal; 91 l)
Powerplant: 3 × Wright J-6-9 Whirlwind 9-cylinder air-cooled radial piston engines, 300 hp (220 kW) each for take-off
Propellers: 2-bladed fixed-pitch propellers
Performance
Maximum speed: 132 mph (212 km/h, 115 kn)
Cruise speed: 107 mph (172 km/h, 93 kn) at 1,700 rpm
Stall speed: 57 mph (92 km/h, 50 kn)
Range: 570 mi (920 km, 500 nmi)
Service ceiling: 16,500 ft (5,000 m)
Absolute ceiling: 18,600 ft (5,669 m)
Absolute ceiling on 2 engines: 7,100 ft (2,164 m)
Rate of climb: 920 ft/min (4.7 m/s)
Time to altitude: 7,200 ft (2,195 m) in 10 minutes
Plans: (21 sheets)
Alpha Plans:
Build Log In brief:
I will start out with this estimates for this model.
I estimate this model to have a Wingspan of 150" (it is important that I declared a larger wingspan than Ron from RCPL[~146"]. I want to see if he creeps his WS to surpass 150")

Estimated Model Specs





Estimated Weights​




Wings:
WS = 150"





12x115gx90%=1242g​




Fuselage:
Length = 90",Height = 34"





12x115gx85%=1173g​




Covering & glue





200g​




Motors = 5010 340kv pancakes - 3.04kg of thrust





3x175g=525g​




15x5.5 Carbon Fiber prop





3x15g= 45g​




3 - ESC opto - 35A, 2S-6S





15gx3=45g​




1 BEC 5V-26V 5V/3A or 12V/3A & Reciever





26g​




2 x 6000mah 6S 50C batteries





2x 863g = 1726g​




Servos x4 25kg torque,





4x75g= 300g​




Landing Gear





2x200g= 400g​







Estimated Total Weight​







5,679 g (12.78) lbs​



Model Shoot:
Maiden Flight:
Take Aways:
Things I'm pleased with
Thing I should have stopped doing
Surprises
Last edited: