I really wanted a Flitetest sweat shirt and they are not available thru the store, so I went to the local t-shirt printing shop and had one made. To get a decent deal I had to order 12, which is way more than I need. After a few I will give away to friends, I have a sweat shirt and a couple t-shirts that I dont need if anyone is interested.
Here is what they look like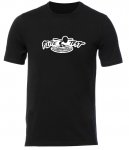 Cost including shipping (US ONLY):
$35 - XXL Sweat shirt (1 available)
$18 - XL T-shirt (1 Available)
$20 - XXL T-shirt (2 available)
If interested, let me know... they will be ready in a couple days. If there ends up being a huge interest in the sweat shirts, perhaps I will do another order.
BTW - I talk to JBixler, he said they might start carrying sweat shirts down the road, but there is nothing planned in the immediate future.