Administrator
Staff member
Admin
Moderator
The Flyzone DHC-2 Beaver is available as a RTF (ready-to-fly) and TX-R (Transmitter-ready) versions! A Tactic TTX600 6 Channel 2.4 GHz radio with SLT is included as well.
AnyLink allows you to use your own controller with the TX-R version.
This RC airplane also features conventional landing gear, with a steerable tail wheel and includes floats, steerable floats! Great for water or even snow landings.
Check out our Floats on Snow episode here.
http://flitetest.com/articles/floats_on_the_snow?q=snow floats
Tinted windows on the canopy reveal a detailed cockpit with seats and a display panel on the interior. The Beaver also has working navigation and landing lights.
Carbon fiber spares reinforce the wings which are setup with flaps.
This plane has a great look and it flies even better! This foam airplane is setup with a powerful motor which allows for some very fun flying, we had no trouble performing loops, rolls, and knife edges.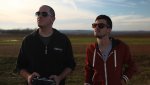 Thanks again to Hobbico for sending this out for us to review! To find out more about this airplane check out the link below:
Flyzone DHC-2 Beaver
http://www.flyzoneplanes.com/airplanes/flza4020/index.html