Administrator
Staff member
Admin
Moderator
You've been asking for an FPV swappable fuselage, so we thought we'd bring back the Fowl Flyer! A smaller foam board version of the
original
and this RC flyer is designed to fit with your
swappable
fuselage!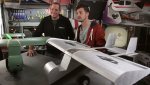 Designed with easy access to your GoPro or FPV camera of choice with a nose that can open.
It doesn't take much power to fly this airplane.
In high wind, you'll get thrown around in the air, but it's a fun airplane to fly.
This Fowl Flyer can do aerobatics, the roll rate is great! Easy to fly, bank and yank.
We'll have a full build for this swappable scratch build, stay tuned for that!