Administrator
Staff member
Admin
Moderator
What better way to start the week off than with a challenge... an FPV challenge!
Josh and Chad compete in a dart drop target challenge. Flying FPV, the RC pilot to drop the most flag darts in the target wins!




The 'darts' are lawn marker flags that can be found at most home improvement stores. Dropping these kind of darts can be dangerous, so don't try this at home.



The 3 point target is setup in a square ring formation, with a 1 point outer ring, 5 point mid-ring, and the 10 point bullseye.


Josh and Chad are both flying a Twinstar equipped with a GoPro FPV setup.


​
The fun part of this challenge is that Chad and Josh are flying for active FliteTest.com authors!
Josh is flying for
​
Nonamerc
earthsciteach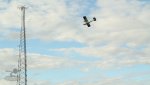 Thanks again to viewers like you! Keep on being active on the website and forum and you may be chosen for the next challenge!!
More information about FPV Twinstar setup
available here