I thought the
Hee Wing F-01
was a cool little wing design with a lot of space on board so I did what I always do when I see a manufacturer make a great product, I copy it because I am too cheap.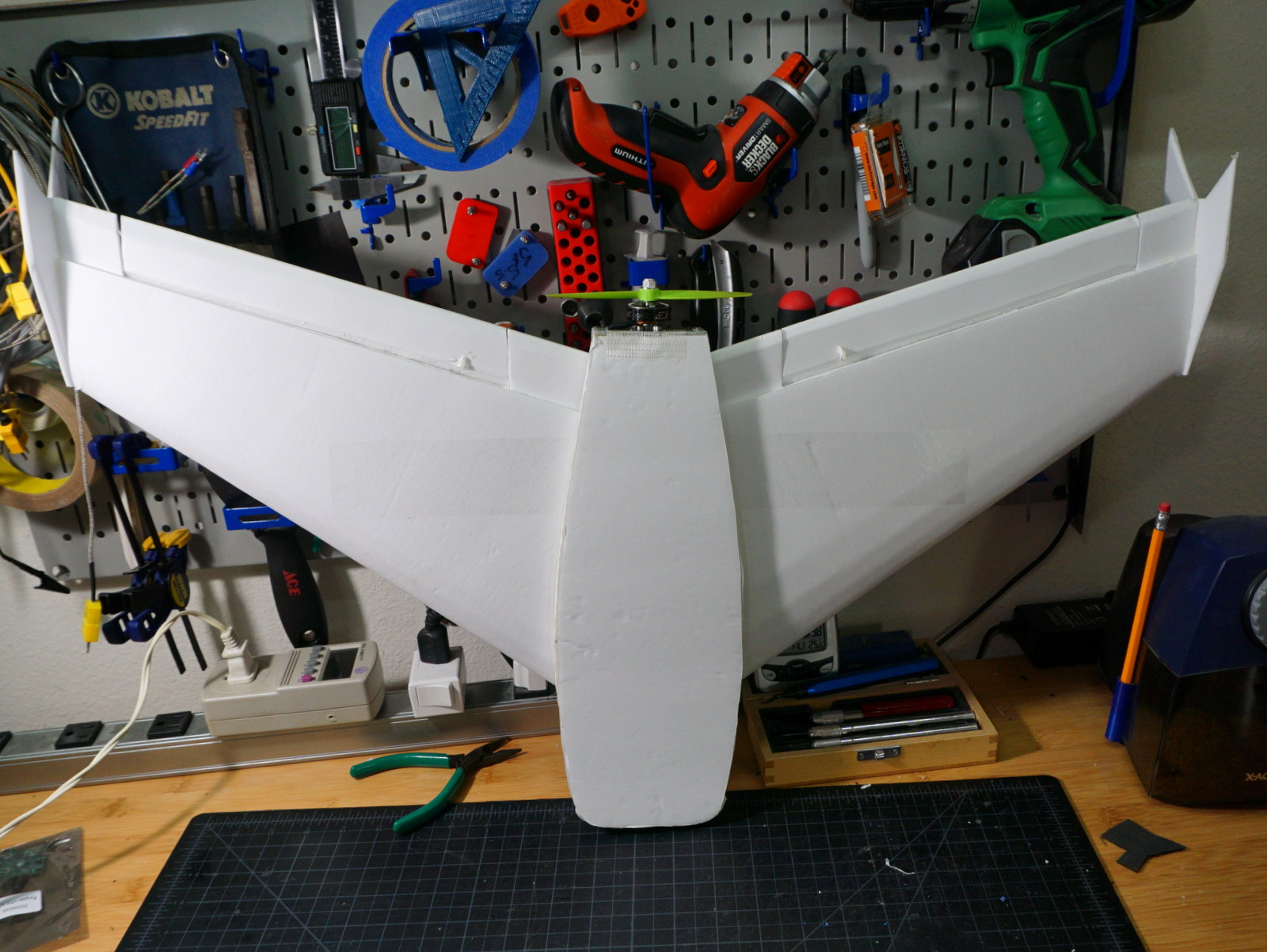 Stats
690mm wingspan
260g dry weight with FPV gear, GPS, FC, 900MHz RX
EMAX ECO 2306 2400KV (any 2205/2206/2207/2306 is fine 2300-2400KV)
30A ESC (only 20A is needed on 3S)
DAL Cyclone 51465 prop (any 5" prop is fine 5x3.5 or more)
This is not a finished design, but I don't really feel like taking it all the way. There's enough in the plans to build it though so I thought I'd share it. Blue lines are partial score cuts
Cut 2x "Wing" pieces (1 mirrored) and 2x "Spar" pieces. Bevel the leading edge. Spar goes on furthest aft blue line. I believe I duplicated the two forward score cuts on the bottom of the wing too, to make it more symmetrical. Fold and glue together in center.
Cut 2x "Fuse" pieces (top and bottom). Remove a 5mm inset along all sides except where the motor goes.
Cut 2x "Fuse Side" pieces (symmetrical) and remove where the wing goes through. The curve is gentle enough that the paper can be left on both sides. Attach to bottom of Fuse piece as a "B" fold would be, flush with back of Fuse. You will have a big hole in the front.
Cut a strip of DTFB to cover the front a little larger than the space. Remove inside paper where needed to make the bends. Leave some paper tabs on it to attach to "Fuse Side", and install to Fuse Bottom / Fuse Side assembly.
Install wing, glue in place.
Attach winglets. The blue lines there are for 15-30 degree bevels to angle them outward, if desired, for style.
For the Fuse Top. I cut it into a couple pieces, one to keep the motor area as a solid box. Don't do the ESC cutout like I did, that was a mess. I just taped one side to Fuse Side and then used tape to hold it shut so I could access the electronics. Cut a hatch in the front part for battery.
For installing stuff inside, a lot of the internal wing can be cut out to make room. The leading edge of the wing I cut all the way back to the spar on initial assembly and it has been holding up fine. I cut a hole for the flight controller to sit in and space to insert a USB cable. There's space in the wing to run wires for an RX. I used a HappyModel ES900RX (pictured) and an EP1 on 2.4GHz just to test the difference. The 2.4GHz is better due to the smaller antenna and plenty of range. A cheap 5ch ExpressLRS PWM RX has more than enough outputs if you don't want to run a flight controller, although the new 6ch support VBAT reporting which is nice.
It flies fine but isn't terribly efficient due to the flat front. A 1300mAh 3S will drive it around for 15 minutes or so at 50-60kph. Max speed is around 90kph / 55mph on 3S but on 4S I got it up to 120kph / 75 mph. I've been flying it for about 8 months now, maybe 60-80 batteries. The CG is somewhere around where I have the servo holes.
Last edited: