So last month I traveled up to Alaska to go to a fly fishing lodge and this was my first attempt to take my AP multirotors (2 of them) with me.
I had around 100lbs or gear! 14 lipos (flight packs) and 2 pelican cases (1550 and 1620)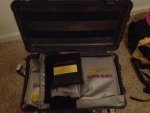 I will updated this thread with more info soon!
Here are some of my raw videos and the first video is one of the videos I made for the lodge (some AP and a lot of ground shots)
Last edited: