Hello everyone:
I've been a member of this excellent community for about a year and a half now, and I still can't seem to scratch my itch for airplanes. I started as many people do, and scratch built a
cub
. It didn't work out that well, but I kept at it. I bought a simple soarer and storch kit and had some success. From there, I began scratch building FT designs. I've had cubs, storches, scouts, a sea duck, TT, simple soarer, and several different wings. As I've been scratch building, I have also started to modify the designs slightly to suit my needs and satisfy my curiosity. My current Storch has a monster motor and a 16" wingspan stretch. My simple soarer has almost a 90" wingspan and floats forever. I have many modified arrows and versa wings, and I am continuing to develop those designs. Most recently I have gotten into multi-engines and built a cruiser and a TT modified to be a Twin, the
TTT
.
That brings us to now. I'm still interested in multi-engines, and I finally felt like it was time to design my own plane. All of my planes so far have been stock FT or modified FT designs, but I've never done my own plane from scratch. I decided to go big, and my first custom design will be one missing from the FT inventory, a 4 engine transport.
I started with a set of 4 cheapo motors from hobbyking. They were more than adequate on the TTT, so I knew that doubling the power again should easily be enough to fly something with a 60" wingspan. I started with the wing, and wired in 4 engine nacelles based around the mini power pod. Here is a picture of the wiring going in:
I soldered together a double Y harness so that I could run all 4 motors off of one battery pack. I call it a W harness... lol. As I wanted differential thrust, each wing's ESCs were linked by a Y cable to the throttle and gear channels on my RX. Borrowing from the
Airbus A400 Atlas
, the motors were configured to be counter-rotating on each wing, with the propeller tips moving down between the engines.
I was originally going to use an old explorer fuselage for the maiden flight, but I soon realized that I would never get the plane to balance with that setup. I was also pretty sure that I would not be able to hand launch a plane this heavy, so landing gear was a must. I therefore decided to build my own fuselage. As this was my first design, I went with a pretty simple and conservative approach. The nose is explorer based without being removable. I opted for a hatch on top instead. The fuselage has an A-fold spar running from nose to tail to reinforce and help distribute the impacts of landing. The tail surfaces are quite large and stiffened with BBQ skewers. I installed the servos externally near the tail for simplicity, and added an extra servo in the nose to facilitate nosewheel steering.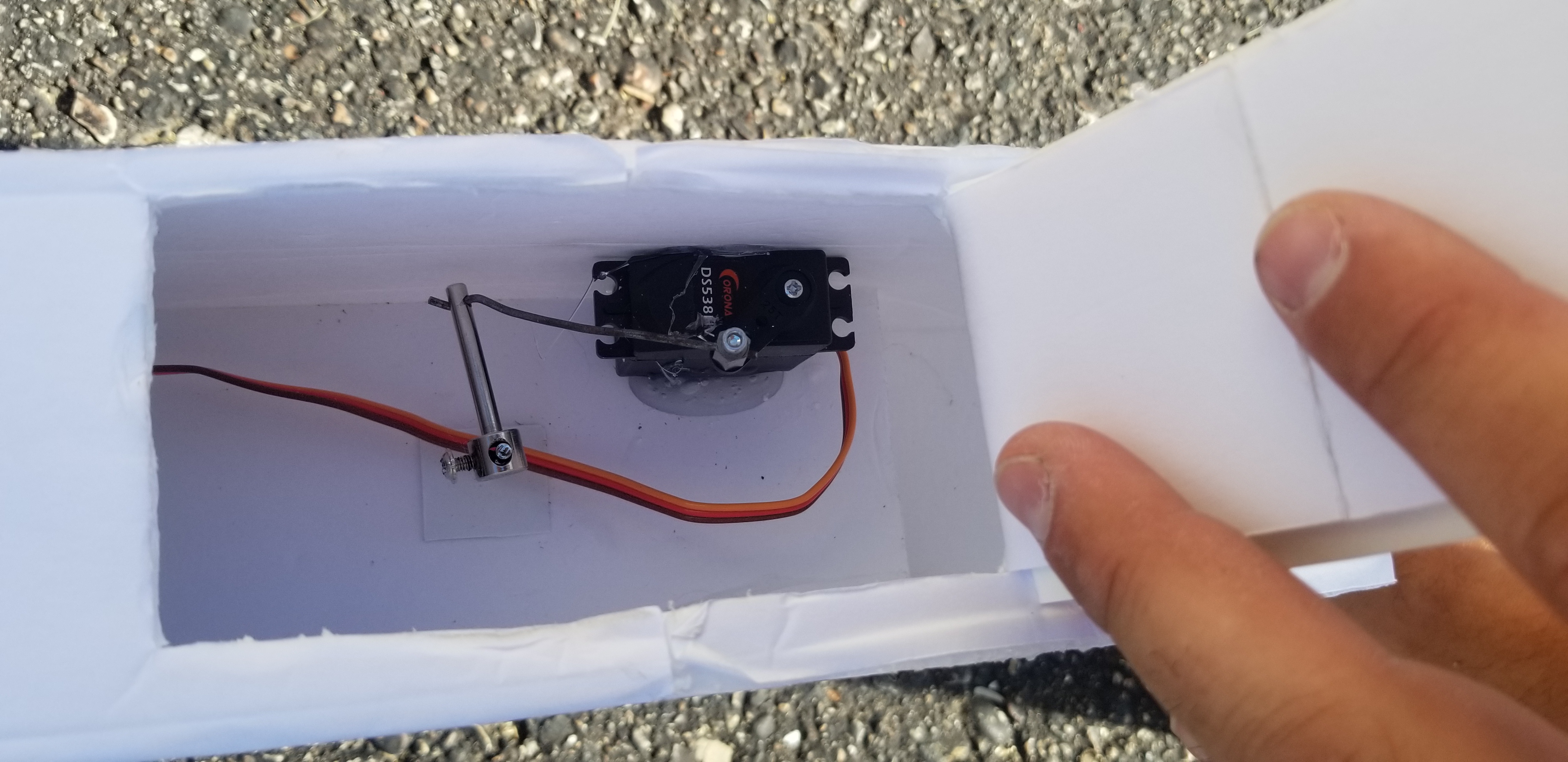 The final step was to install the landing gear and do all of the programming on the TX. The nosewheel steering was kind of a pain to get working, but I finally got a working solution. Differential thrust was easy to setup and worked fine on the bench.
The airplane balanced at about 25% with my big 5000 mAh 3S pack directly over the nosewheel. All up weight was right around 4 pounds, and the pack should be good for over 10 minutes of flight. Here's what it looked like ready to maiden:
I took her up to my flying field this morning, and man, what a feeling! Flies like a dream! The takeoff run is long, I think I mounted the main wheels too far aft. Once in the air though, it will float at about 20% power without a problem. I never even went full throttle, as at 50% it was already way faster than scale. Slow flight is stable and predictable, and I was able to absolutely grease the landings this morning. Here's a short clip, sorry for the less than awesome quality. I'll see if I can get some better video in the next few days. Thanks for reading, and enjoy!