A Russian military Gee-Bee? Sort of! It was an original design, not a knock off - it was actually cutting edge when it came out between the world wars - first low wing monoplane fighter with retractable landing gear! Russia had these as the main fighter in their airforce from the 30's to the early 40's. Unfortunately by the time WW2 got to the Russian front, these were outclassed by the ME-109s and took heavy losses. This one is in a Russian museum, but Kermit Weeks got a restored one last year for Fantasy of Flight in Orlando Florida, so there are multiple options to stand next to one!
Lots of other really fascinating history about these - you can start here for a good overview:
https://en.wikipedia.org/wiki/Polikarpov_I-16
And there are dozens of really cool scale paint schemes for this model! Here's a couple sites with just some of the options:
http://vvs.hobbyvista.com/Markings/I16/type5/index.php
http://vvs.hobbyvista.com/Markings/I16/artdeco-i16.php
http://vvs.hobbyvista.com/Markings/I16/type10/update/type10.html
In the book
"Profile Aircraft #122 - Polikarpov I-16"
I found this awesome looking winter scheme used by the Russians - should be easy to paint and great for orientation too!
For my build, I'm working with the 30" wingspan short kit designed by Derek Micko in 2008 and laser cut by Manzano Laser Works at
https://manzanolaser.com/Polikarpov...an-WW2-Fighter-Model-Airplane-Kit_p_3030.html
As mentioned, this is a short kit so it comes with the plans, all the curved balsa and plywood pieces laser cut, and a canopy - but no other hardware, stringers, or spars.
The canopy is an unexpected bonus - didn't expect this in a short kit!
I'm starting with the horizontal stabilizer per the directions, and using Super-Phatic glue for lightweight performance and way better sanding characteristics than CA.
There are a couple differences already between the plans and the balsa - but they work in the builder's favor! The leading edge of the horizontal stabilizer is four separate pieces on the plans, but cut as just two pieces in the short kit. Took a minute of looking through the pieces for the right shape before I spotted that.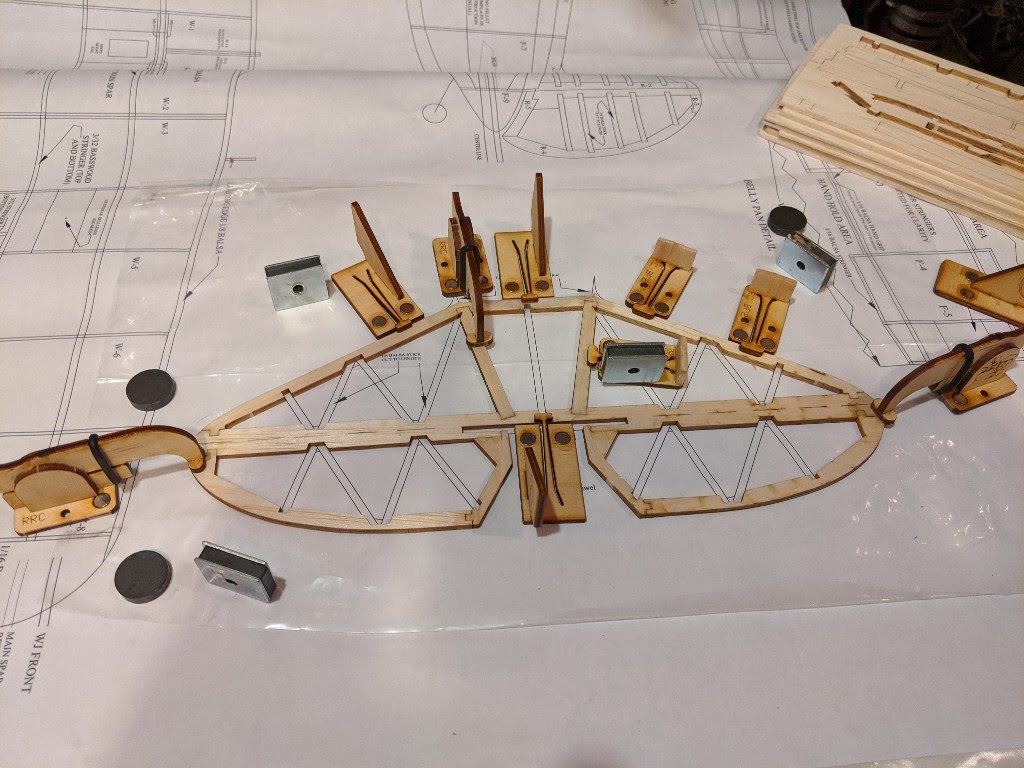 Time to start making 1/8" balsa stringers next.
Last edited: