My Depron Airbus A350 that uses 2 racing drone motors as ducted props in scale Trent nacelles flew so well I wanted to try something even bigger before my supply of 3 mm Depron dried up completely.
I was attracted to the Antonov AN124.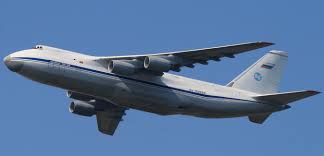 Bigger than the C5 Galaxy and second only to the one off AN 225. I have even see one fly overhead. It leaves quite a noticeable smoke trail!
With a limited Depron supply this build would have to make full use of printed parts ideally so that Depron would only be used for the skin even then there is likely to be quite a lot of it.
With the same RS2205 drone motor driving a 4 blade 5x3.5 prop as I used in the A350 this set the size of the engine nacelle. Scaling the airframe from that gave a span of 2.5 m and a fuselage nearly as long. A big plane to be built from 3 mm Depron.
As the engine nacelle set the scale it seemed logical to do that first.
It took some time to design in CAD but at least it was going to be repeated 4 times.
As the success of the nacelle and pylon determined whether it would be practical to proceed any further quite some development was undertaken to give the lightest possible structure as well as testing to determine how much (or little!) thrust would be available.
Eventually the nacelle was printed in 5 parts glued together as the internal structure of each part would be significantly different to suit the loads imposed on it.
A complete nacelle fixed on a vertical test stand.
When run up on a set of kitchen scale it gives a direct thrust reading.
A whole series of tail cones were tried to give a range of exhaust areas from 100% to 80% of the FSA.
There was a small increase in thrust (about 5%) to 230g with both the 85 and 90 FSA tail cones.
The slightly smaller 90% cone was finally chosen as it better mimicked that on the full size.
Each nacelle requires nearly 7 hours printing time and of course there are 4 to do along with a filament colour change.
So a possible 1 kg of thrust. The finished plane was going to have to be seriously light.
To be continued.