In the wake of my ever-enlargening projects, I've seen it said that "hey, it sure would be nice if you could show us how to do something most of us have the tools to do", which I took to heart.
So this will still be a "big RC model", but it won't be a very complicated one, and I am vowing to use NO "special tools" of any kind. That includes lasers, 3D printers, or even software like Photoshop or Illustrator. Just a knife and some foam. The "fanciest" tool you need is a computer and the ability to do an internet search - something you can even do for free at many libraries.
To that end, I give you the Profile Scale Simple 7ft C-47!
As of starting this thread it is not yet completed, but I will reserve a few of the next posts to fill-out the build as the process continues. I will also be sharing videos I make on the subject, which will usually be a little behind the forum progress. Here is where I'll share and talk about everything in more day-to-day fashion, while the videos will be more "snapshots in time" to share more broadly.
Here's the short version of the build process:
1. Pick a plane you want to make.
2. Do an internet search for a 3-view of that plane.
3. Duplicate & Crop the 3-view into three images: Wing (or half-wing), Fuselage (including vertical tail), Horizontal Tail*.
4. Choose the size you want to make your plane and scale the full-size dimensions accordingly**
5. Call your local print-shop and ask them to print these images at the specified sizes.
6. Cut out the printed patterns and tape onto your material (green, blue, pink foam, foamboard, etc...)
7. Cut out your foam pieces and assemble!
NOTE: The glue I used is 'standard' brown Gorilla Glue, spread on thin and spritzed with water. Then you stack the parts and sandwich under heavy books.
*Make sure the cropped images have no "border" on the sides.
**For the C-47, it has a wingspan of 95.5ft. I want a 7ft span model, so my scale is 1:13.6, or 7.3%. That means my fuselage is 7.3% x 63.75ft = 4.7ft = 56in. And my horizontal tail is 7.3% x 26.8 = 1.96ft = 24in.
For example, here are the images I cropped from a couple different C-47 images:
-

-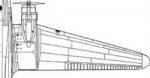 I literally did all this all on my phone - my computer was in the 'shop' getting its battery checked out, so I physically did not have access to my "regular" computer tools. It was a lot of fun to work through this using just my phone and email!
And here is the result in green foam board (garage door insulation foam):
-
-
Stay tuned for more developments!
Last edited: