I've mentioned this elsewhere and figured it was time to get a build thread started for my one piece origami plane. As you can see, the main fuselage/wing/v-tail is all one piece of intact foam. There are lots of folds, bevels, and hinges involved. I thought it would be a fun challenge to see what I could come up with. I even designed in a KF airfoil and some dihedral. What do you think?
It sort of feels like cheating, but I have to work with what I've got. So, I glued a mini power pod adapter box to the nose. That way I can switch the pod between my Mini Scout and this. They are about the same size.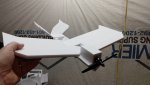 This was a phase one prototype. I might just turn it into a glider. The phase II re-design is already in progress. I removed the little wing spurs, because they'll just end up getting bent anyway. I'm sticking with triangles and straight lines still with this one, but it will have more "curvish looking" wing tips. Also, I've added some backward sweep in the wing. More pics soon!
Last edited: