Always looking for something different. Always a big fan of USSR Migs. So I designed a FT stytle Mig-25.
1 x 64mm EDF, 40A ESC, 4 servos, 3000mah 4S battery.
Wingspan 730mm, length 1050mm.
I can't find proper foam board (like dollar tree foam board) in Australia. Hobby king stop selling the KT board.
The best material (which is 25% heavier than DTFB at least) i can find make it 850g PNP weight
Maiden successful. But no video, as I always flying by myself.
Full throttle for hand launch, very draggy. Need 70% throttle for cruising
Still working on the turtleback to hide the ESC.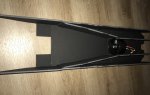 Compare to 64mm EDF F4. It's quite big. Maybe I'd better make it twin EDF.
Last edited: