Here are some suggestions for new FT models / Show builds -
C-130 Lets face it, who wouldn't want one of these in their collection.

Any Canard type, couple of samples here - Better still... Make it a 'Swapable' (glider & powered)

And this is just as much a 'challenge' to the guys as it is a suggestion -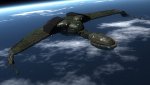 Kingon Bird of Prey - I DARE YOU TO MAKE THIS FLY ! ! !
Last edited: