Found this Telemaster plan on Outerzone. I love the look of this plane, especially the big ones.
http://www.outerzone.co.uk/plan_details.asp?ID=2502
I modeled it up with a FT PowerPod, 1345mm wingspan. I've actually almost got the plane finished so I'll post pictures later. I built the thrust angles into the powerpod mounting plate, so we'll see how that works. Everything is exactly like the plan except in my build I added undercambered wing tips. I also changed the tail slightly so I wouldn't have to notch the elevator.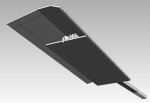 Last edited: