I need to build confidence in flying wings before I let the iNav wing do its thing.
So ordered a cheap wing called the Rainbow Wing from GearBest, a lightweight 800mm wing.
Arrived on Thursday and by Saturday morning, it's ready for its maiden.
178 grams before battery, balancing with a no-name 1000mAh 3s 25C lipo making a flying weight of 215 grams. Static thrust...450 grams so it's certainly has the power
Decided to put the ESC on the top so it has plenty of cooling.
The weather this evening is looking okay'ish for its first flight.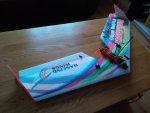 Last edited: