Up for sale I have some older manuals for control-line aircraft and one for a car control line. They are not in the greatest of shape, but are still useful/valuable to some. I bought these along with some other control-line airframes at a yard sale. They're also an envelope of really old decals, tattered airframes, some very frail covering, a wood propeller, and miscellaneous pieces of balsa. But, don't take my word for it take a look at the pictures.
The one car manual is for a Cox Corvette Stingray. The rest are mostly for various stunters such as the Shoestring and Jr. FliteStreak. The one airframe appears to be some sort of helicopter, though not completely sure on just what it is. If you have any questions, feel free to ask.
I do not have a set price for anything, so, make me an offer! I am also open to trades, particularly a power set-up for the FT mighty-minis aircraft. But like I said, I will consider almost anything so don't be shy. Shipping may be available for the smaller items but other stuff would have to be either pick-up or arrange something to meet somewhere. I live in the Upper Peninsula of Michigan, and Thanks for looking!
View attachment 43059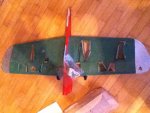 View attachment 43058