Hi, so I have designed a few planes in the past and decided to step it up some so I decided to design a dual engine plane. I started my build in the winter and completed the first version but realized some flaws in my design that would make it hard to fly so I never attempted to fly it and went back to the drawing board. The second version I designed fixed some of the problems I saw in the first design. Here is the time lapse of the designing process and the build.
Now lets go over some specs.
wing span: 60in or 152.4cm
weight: 2 pounds exact (with out battery)
motors/esc: power pack c twin
batterys x2: lumineer 2250mah 3s (makes this thing a rocket ship)
rx: spectrum 6ch
servos x3: 9g
finally I got some good weather and went to do the maiden
I wanted to see how it flew with only differential thrust no rudder. The differential thrust didn't seem to do much but I am going to do some more testing before I put rudders on it. Overall it flew okay I think it was a little tail heavy and once I get it balanced out it should fly fine. I will say the elevator is really sensitive so it is going to need some expo. I did notice that the was some adverse yaw going on in the turns and I want to fix this in version 3. I didn't try to design this to be scale I just based my design off the b-25 If you want to see some scale b-25 builds there is a bunch of amazing builds on the forums. I may try to make It look more scale looking in the future but I want to get it flying perfect first. In the next version I plan on doing a couple things first adding a bomb drop because its not a true bomber if it doesn't have a bomb drop. second I noticed when I was doing some run ups the elevator was moving just slightly.
The elevator is only one sheet of foam thick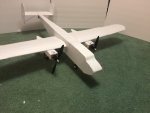 so in the next version I think I am going to make it 2 sheets thick like this
I also plan on designing some stronger landing gear
If you guys have any suggestions or questions let me know, thanks!
Last edited: