I have recently built a giant S.P.A.D. gasser (I call it BAD SPAD). And have completed a short maiden flight with an engine out and found the following: it fly's slow, stable, climbs well, seems to stall gently by mushing out, glides very well, is forgiving, and very cheap to build. I'm thinking of putting plans/instruction to build it here on the forum. I am asking all those reading this to please tell me if they would like to build this plane. This is still a prototype but looks promising. I will update the performance info after I fly it more. Any questions, please ask. I would be flattered if anyone would have interest in building this plane. The plans would not be blueprints, but I know that when I was designing this beast I would have loved some guidelines. So, guidelines are what I'm here to give others looking to get into giant models. If you have interest in further information about this plane or would like to get instructions to build it, please let me know and I will do my best to fulfill your wishes. Contact me through the forum; I will have it set to email me,
Here are the specs:
> 8 foot wingspan (truly 97" due to coroplast sheeting size).
> 72" inch gutter pipe fuselage.
> 35.5cc converted chainsaw engine (could probably take up to 50+).
> 8 standard servos.
> 20 pounds flying weight.
> super light wing and cube loading (23ounce per sq. ft.).
> Overall length about 80".
> Flaperons or flaps.
> Super easy to build with normal tools.
> And anything I'm forgetting (please ask!).
Materials:
>2 4'X8' sheets coroplast for wing and tail.
> One board for milling the wing spar, or something from coro or gutter pipe could be made to work.
>One piece of gutter pipe at least 72 inches long (sold in 10 foot lengths).
> 18" gutter pipe for control horns and wing attachments + some for tail (should be leftover from fuse).
>converted chainsaw engine (or use one designed for flight) 30-50cc maybe more.
> Aluminum flat for landing gear.
>misc. music wire, bolts, rivets, wire, RX, prop, engine mount, and anything I'm forgetting.
There is one con I have noticed: the tail flexes a fair amount, but could be stiffened.
14[/ATTACH]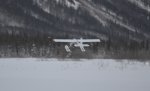 View attachment 602
Last edited: