creator of virtual planes
I'm starting this thread to ask two questions: Has this been done before? (and) Do you think it's feasible?
Basically the idea is to use the techniques that people use when hot wire cutting out blue foam core, but applying it to foam board. The idea is to cut out a bunch of pieces and when stacked together they form the plane. The end result would be a solid piece of foam (but with paper and glue in-between the layers) that is built to perfect scale. Well, not perfectly scale because the end result would be blocky and look Lego like. I tried to find a photo from the internet to help explain what it would look like, this photo is close:
These photos are better: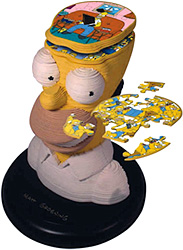 Of course the square edges could be sanded, but that won't work for the wings. I think the wings would have to be KF step. Otherwise, you'd be cutting out A LOT of ribs to glue them all together into a solid wing. Since foam board is about a quarter of an inch thick, you'd need 160 ribs glued together to form a 40" wing! KF step is definitely the way to go with the wings. A lot less pieces to cut out and it'll keep the Lego look.
Hopefully covering the final plane with tape, vinyl, or a covering film will smooth out the rough corners. The final result should at least look great in the air or from ten feet away. Might still be a bit blocky close up.
I thought about trying this out by building a Piper Cub or Bird Dog or some other high wing trainer. But those planes are so square that it'll just be easier to build the outside shell, like you normally do when building with foam board. That isn't the point of trying this.
The point of this idea is to build scale, complicated planes that are easy to replicate and can easily be shared with the detailed plans. Planes that may be a lot of work, but easy for any one to build with basic tools. I know the plane will be heavy from all of the foam and glue, but war birds are supposed to be heavy anyway. (Plus I would have some hollow spaces for the electronics.)
I might eventually try this, but I'm not sure what to try it on. If I was capable of using 3D modeling software I could model a plane and then use the software to come up with the cross sectioned plans. Since I can't do that, I'll have to guess on some details. So something simple would be nice. But it would also be nice to build something complicated because that's the point. I'm thinking a P-47. I like the history of that plane a lot more than the look but I think it'll be a good balance of complicated and simple. But really any war bird is.
I would stack the pieces for the fuselage from the left to the right. Not the bottom up. And certainly not from the front to the back. I think the benefit would be that I could cut slots for the wings to slide into. And since the wings will slide into multiple pieces, I can easily set up built in dihedral. Also, going from front to back would make it look a lot better, but I want a few big pieces, not a bunch of small pieces.
... This project would be a lot easier if I had the right software tools and a laser cutter. It would be nice to just laser cut out the foam pieces and just have to glue 30 plus (I'm guessing) pieces together. Not have to cut them also. But it's not supposed to be easy, it's supposed to look great (and be cheap!).