I think it is done...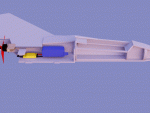 Both hatches will operate with a popsicle tongue latch up front and a little velcro strip at the back.
There will be plenty of room for electronics with the combined bays and depending or your final battery resting place you should only have to remove one hatch once built unless you have to service something in the other bay.
After I physically build the new nose and hatches to verify the operation it is on to the skins.
I can also shoot out some beta plans once I fly it and the hatch is proven if anyone would like to try to build one. There will be no build guide, but you could probably use the Rhino build guide as a reference for most of it. I also took a hundred pictures of my build as well so if there is any questions I can give you a visual.