Curtiss-Wright XP-55 Ascender


This should be a good project.
Information gathered about the XP-55 Ascender
In November 1939 the US Army Air Corps issued a proposal for a fighter that would be much more effective than any current fighter. The proposal specifically called for unconventional aircraft designs to produce new designs with an increased top speed, climb rate, maneuverability, armament and pilot visibility. Curtiss-Wright proposed the
XP-55 Ascender
along with competitor proposals of the
Vultee XP-54
and
Northrop XP-56
.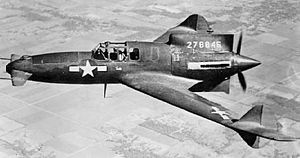 The XP-55 was originally designed to house the Pratt & Whitney X-1800 engine with a projected horsepower rating between 1800 to 2200, however that engine project was cancelled so the XP-55 settled for an Allison V-1710-95 liquid cooled V12 with 1275 hp. The loss of power contributed to the poor performance that played a hand in the cancellation of the XP-55 production since it did not perform as well as conventional fighters of the day.
The first XP-55 flew on July 19, 1943. During a stall test the plane fell out of control for 16,000 ft, the test pilot safely ejected, but the plane did not survive. The second XP-55 first flew on January 9, 1944. It had increased canard elevator surface to augment the flight performance but all flight tests were restricted to avoid the stall zone. The third and last XP-55 first flew on April 25, 1944. Unlike the previous two, it had four feet wing extensions that greatly improved the aircraft's stall characteristics. Additionally the nose elevator was given a greater amount of travel. Sadly, the third was crashed at an air show in Ohio killing the pilot leaving only the second XP-55 which can be seen on exhibit at the Air Zoo and Kalamazoo Michigan.
A more detailed history can be found at the following links:
Curtiss XP-55 Ascender
The Dayton Air Show
Popular Science August 1945
Virtual Air Museum
Drawings on which I will base my plans.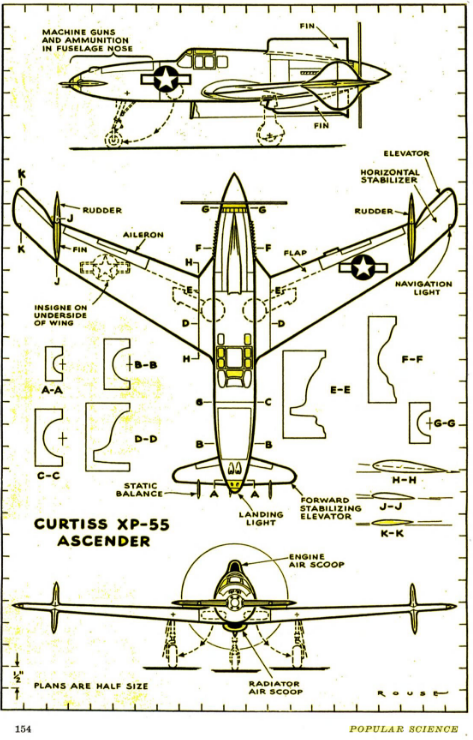 Popular Science August 1945
Solid Model Memories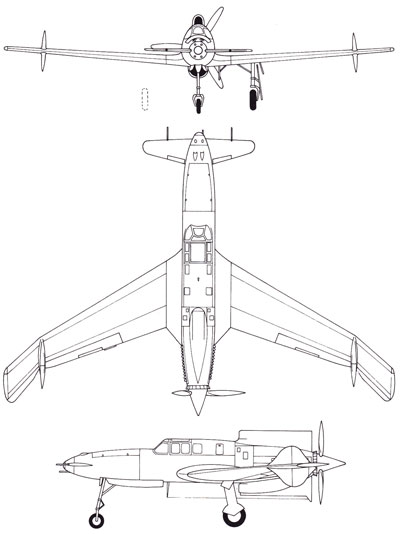 World War Wings .com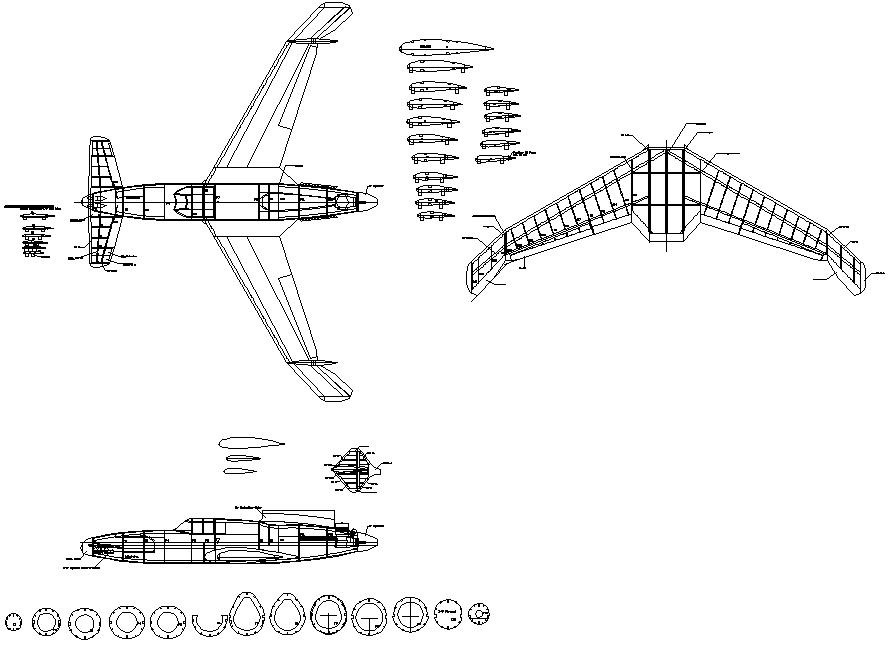 Static RC Groups.net
Here are a few videos I've found
Last edited: