So today I finally received my Blackout H-Quad in the mail. Yea!!!!
Then I went through all of the smaller bag to check out all of the items and it was all there. I was missing my T-shirt so I'll have to contact Blackout about that. The awesomeness of having the quad blinded me to this until I was writing this.
I also of course got more props since you can never have enough and added them to my prop collection.
After all that I went and found all of the gear that I hope to put in the build. I ordered the ARF so I got the ESC and motors with the bundle.
Tiger MN1806 2300kv (I believe, they just say blackout on them
)
BS 12amp SimonK ESC from Hobby King (with white heat shrink, it wont be a blackout quad, it will be a ZebraOut Quad...)
Orange 6ch Reciver DSM2(need a real spektrum but will have to save up for that. I might switch to my generic micro 6ch reciver I have on my other quad.)
Acro Naze32
FPV Gear

ImmersionRC 5.8gHz 600mw Video Transmitter
ImmersionRC 5.8 GHz SpiroNET Antenna
Sony Super HAD CCD 600TVL IR Block
I've learned from reading FinalGlideAus Build Log on Mini-H that I'm missing a few things like liquid electrical tape and/or a 12v step up regulator. But if I understand it all correctly the board outputs 12v this so I should be able to power the camera it from the board with
no problem right?
I could also use a Male to Male Coaxial Cable but I'll probably just mount my Vtx in a way that works without it. Also an OSD might be handy but I will have to look into that later when I have more funds. I don't plan to customize the quad as much as he did to his and will keep it as simple as I can for my skill level right now.
I went ahead and built the frame to get an idea of how it is put together here are are some pics though nothing special.
Also I had to solder something on the quad so here are some more pic and some gifs I randomly made. It looks so cool with the lights on.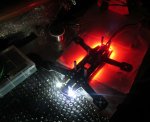 Initially I was super excited for this quad to come in then once I was laying everything out I became a bit intimidate about building it. I think it's the circuit board that has me a bit off since my soldering skills are still pretty raw. I have soldering wires to wire and bullet connectors down down but a board seems harder to me since I haven't done it as much except to disassemble my turnigy micro quad. I think though that I will be able to put this together without to many issues I hope.