March Micro Madness part 1 - The Sparrow
As you probably know, Transport Canada drank the safety kool-aid and, in the interest of protecting the privacy and the children of our Great White North, has decreed that anything over 250 grams is illegal to fly anywhere but a MAAC sanctioned field, or on private property - if that property falls within about 15 pages of rules. (If you think that sentence was long, try reading the regulations
) I knew it was coming last year, so I built a 2" Airblade UAV Creampuff, but that thing was nothing more than a continuous string of headaches. I have nearly completed the transplant to a new frame, but that will be part 2
Right around my birthday in Jan. I started seeing reviews of the GepRC Sparrow. Everyone got the BnF version, which had a few flaws - F3 with no OSD being the main one. Other than that, everyone gushed about the power and toughness. All the components are available individually, so I got a purple frame (BnF's are all titanium) and the upgraded F4 FC with OSD that fit's in the same sweet little stack. I finally found some motivation and started on it last weekend. I still have a couple finishing touches (shorten battery lead, zip tie 5.8 antenna) but here it is, in all it's glory:
Technically over 250g but the shortened battery lead will drop it at least a gram or 2. Probably going to have to carry a scale with me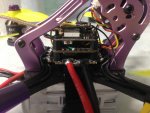 The stuff:
GepRC Sparrow GEP-MX3 139mm frame kit
HGLRC XJB F428 Micro F4 Flight controller
HGLRC 28A 4 In 1 ESC
XJB TX20 Mini 5.8G VTx
FrSky R-XSR
RunCam Micro Swift 2
GepRC SpeedX GR1408 3500KV motors
3042 3 blade props
4S 850mah Tattu batteries
I hovered it in my living room and it seems rock solid, I can't wait to get out and see what it can do. But it's snowing yet again, so the real maiden will have to wait.