Well guys, the folks at GWS have given us a true performance upgrade!
I have only received them days ago, but I can tell you confidently from the testing that I've put them through, they are tough!
They weigh the same as stock but are a slimmer profile, and are excellent for acro, my flips are a lot faster (doubles are a breeze, triples are now doable), the controls are much more crisp, and the throttle is even more responsive!
They have a 4.3" pitch (more aggressive than stock), are 5.4" long (same as stock), and they are available in White, Black, Orange, and Grey.
This is the only source I can find right now.
GWS EP5443/EP5443R
If anyone knows of other sources please chime in!
On the website they are not advertised as mQX props ( In fact they are specified for direct drive applications, not geared ) but the length was right, and I could see from the photo on the site they looked very similar to the mQX design, so I took a gamble, and boy did it pay off!
Here are some side by side comparison photos against stock props...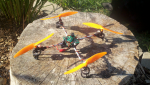 I even re-installed my 1-cell battery alarm, as it now has enough punch to support the added weight, and still tumble like nobody's business!