DETAILS
Hi everyone! This is my second chuck glider design and I am thrilled to release it to you all. Impress all your friends as you glide in style with your nnChuck F-16! Despite its sleek design, you'll see exceptional glide performance out of this little guy.
If you like this design make sure to check out my first chuck glider:
nnChuckStang
Enjoy!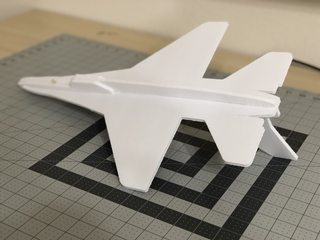 SPECS
WINGSPAN
12.2in | 310mm
FUSE
19in | 482mm
WEIGHT
1.3oz | 37g
BUILD DIFFICULTY
✪
✪✪✪✪
Beginner
PILOT SKILL
✪
✪✪✪
Beginner
MATERIAL LIST
(1) USD Nickel or 5g weight
(1)
Adams Readi-Board
(20"x30")
(1) BBQ Skewer
Free plans are available for download:
CLICK HERE
BUILD
1. Cut out pieces.

2. Glue on the right side doubler.

3. Glue in (1) USD Nickel and BBQ skewer in nose.

NOTE: For my international friends, you need 5g of weight in the nose.

4. Glue on left side doubler.

5. Crease wing/elevator.

6. Slide wing in from the back and then glue.

7. Glue nose and pinch to a point.

8. Go fly!
Last edited: