The plans :
View attachment BN Versa VM 1.1.pdf
!!!! *note the black line at the front hatch. This should be a red score line
6/17/2015 The maiden went beautifully yesterday! I may need to adjust the CG marks or remove some weight. I trimmed a lot of elevator into it to keep the nose up. I slid the battery to the rear a bit on the second flight and was extremely pleased. The third flight was interesting. When the prop came off shortly after take off, I suddenly remembered having only hand tightening the nut. My first thought was get it down quick, but then I realized that it was in no hurry to come down. Without the prop it was content to glide down for what seemed like forever. I was ecstatic. I wonder if a folding prop will work? I'll get some video soon I hope. I need a way to film when I'm alone.
6/15/2015 The build is now complete. I celebrated with watermelon. It took a fair amount of sanding to join the wings and to install the wing tips. Nothing drastic, but I had to focus on the bottom plate. This could be adjusted in the plans a bit, but it was quick and easy. Some other notes:
-My batteries fit now. It's tight, but it works! I used some temporary wedges made of DTFB to help keep the battery compartment in the shape I wanted while building the center section.
-I used the Walmart Ross foamboard. It's really water resistant and seems very sturdy. I like it! Although, It doesn't peel easily. We'll see how it holds up.
-Due to the swept back design it still needs a fair amount of nose weight to balance. I'm pleased with it though. I can double up on my batteries or add a camera in the future. I put about a 200 gram old nihm battery in the front along with a single Turnigy 3s 2200mah.
Original post:
I've had my eye on the versa for a while, but I noticed the slew of Turnigy 3s 2200mah batteries I have would be a tight fit. Now I've finally decided to take on this build, but I wanted to make some changes. The spar in the Versa is 0.9" thick while my batteries are 1.0" thick, and I've read a lot about the tail heavy pusher configuration. My goals here are to help with the CG a bit as others have done while keeping the wing shape, get my batteries in the wing, and to keep each wing on one sheet of DTFB.
With those goals in mind, I could not simply scale the plane. As a result, the versa has grown longitudinally and vertically without changing the width. This disproportionate growth might prove to be detrimental to the build, but I'm hoping for a happy accident. Here's what I've come up with below.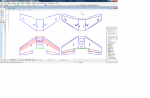 You can see the original versa in black. It's laid over the larger BN Versa. The spar is now 1" thick, and I've moved the motor mount forward in a way that minimizes "sharp turn" weak points.
I've attached the plans as well should anyone else be so daring as to join me. It's my first attempt to contribute to the community in this way, so let me know if the plans are useable. I can tile them if anyone is interested. The CG is an educated guess based off FT's plans.
Last edited: