With a lot of smaller planes now to take to the field, I thought it was time to start another larger project. And since I have built 6 flankers and destroyed 4, why not take it to the next level!
Since my custom "stryker" works extremely well and can take being thrown around the sky, I would build similar to that. Off to bunnings to get some insulation foam for $13. I also decided to use the same power system.
DYS 1450kv 35mm Brushless motor
70amp red brick ESC
Metal gear 12gram servos
4S 2800mah 35c
Running a 7x6 prop
I cap power on the stryker to 500w watts. This is enough to propel it vertical and about as fast as I want to handle. Solid power system that comes down cool after 8-10mins of mixed flying and 40% or more left in the battery. Have used this for 8 months and over 40 flights.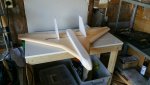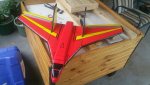 My small flanker has a span of 22 inches, the next one up has 27 inches, both are stable and a hoot to fly. So went another 5 inches bigger again to 32". Marked out the plan on the foam after wire cutting a taper in the sheet (25mm in the center out to 10mm by the wing tip. I cut out the tail and fuse parts and dry fitted to see what I was in for.
Happy with the size, I finish sanding the aerofoil and begin taping the fuselage. This is after I put 2 6mm carbon spars in with epoxy.
Attached the tail after covering with tape. Added thick BBQ skewers to leading edges foe strength. Since I use the wing tape from Hobbyking, I use my heat gun to smooth it out. Wing tape is cheap too.
I dry fitted the other parts again to see where I was upto. Seems very strong with the carbon spars, although the xps insulation is fairly strong already.
I'll post when I get some more done.
We aussies may not have dollartree foam board but we have ways of building cheap planes! The other foam I am using is from hobbyking. Cheaper than depron, seems lighter but not as strong but can bend easier, especially when taped.