I have FS-T6B transmitter. I tried to connect Tx to PC(Windows 7) using USB(FS-SM100) cable. When I connect the usb cable to pc, does not get it. I installed T6config, SI Labs Driver .
First, I installed SI Labs Driver . then I opened 'Device Manager'. Though 'Silicon Labs xxxxx' should be appeared under Ports(COM & LPT), didn't it.(According to Tx manual and SI LAb instructions, it should be appeared)
I tried to get it using 'Add legacy hardware' (Device Manager->Action->). Then it appeared with some error ( as Picture) and doesn't work. I don't know how to correct it. I tried many times, download 'T6config from various places' and used two PC. Same error was occurred at all times. Please, anyone can help me?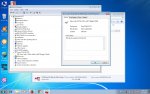 Last edited: