During December I decided to build my own tricopter. My big inspiration were tons of FPV videos on youtube. Then I've found David's webpages with step by step guide and many useful informations.
I set the package from HobbyKing free of customs post 30th of December, then I slowly built it almost whole next week. Hopefully I have ironmonger's shop 15 minutes from home so it wasn't a problem to go there two times a day when I've found that I forget to buy something.
The build began with few sketches of yaw mechanism in SolidWorks, which I improved later.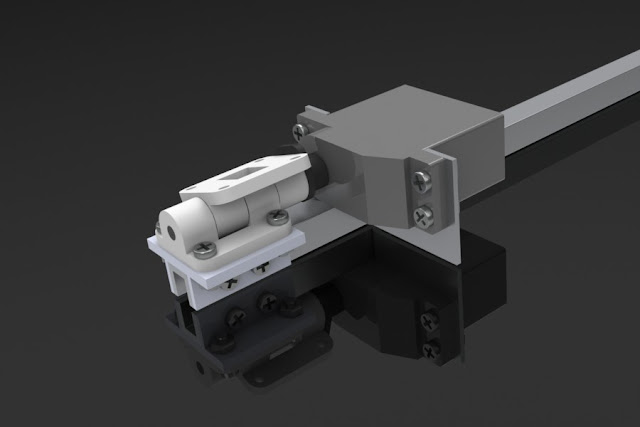 Then I brought theory into practice.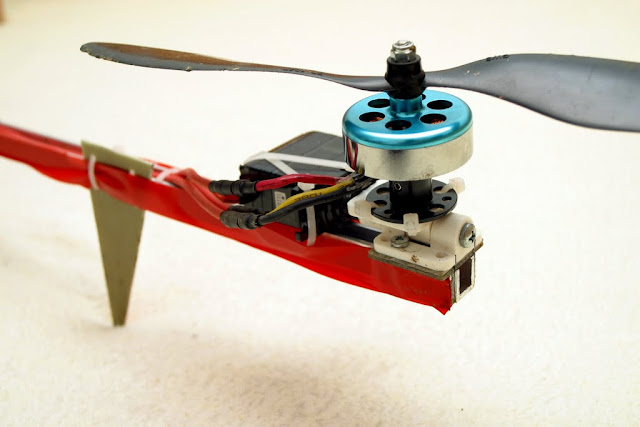 *
And finally assembled all parts together.
* that red insulation tape is temporary mark of tail arm.
I used few different parts - big heavy duty metal gear servo for yaw mechanism, 4 Ah 3S Li-Pol battery and U shaped aluminium profiles 12x12 mm. The wooden square profile with 10 mm side isn't available here. I wanted 10x10 aluminum U profiles, but they were sold out at that moment, so I've bought 12x12 mm.
This caused few other small problems like M3x16 screws which became too short.
When it was completely built I brought it to the field and wanted to try a short test flight and set the gyro gains. This try ended after couple minutes with a broken prop caused by motor which jumped of the base (yes, I have to use thread-lock glue). Unfortunately I didn't have spare prop at the field so I went back home. Since that day I didn't have any chance to try it again, because of the strong winds.
I'm learning on simulator and I hope the next flight will be more successful
.