EDIT - 11/5/2020: Version 8 plans are UPDATED and in the "Resources" section: https://forum.flitetest.com/index.php?resources/xf-viper-foamboard-f-16-edf.47/
(also in the attachments at the bottom of this post)
- Latest version is "V8" - Paper thrust tube page is still "b5".
- Current plans are full-sheet, 5 sheets of foamboard, 1 paper thrust tube
It's been a LONG time comin', but it's out!
SP0NZ has been pokin' at me for quite some time, "when are you gonna do an F-16!?" .... so after the Valkyrie project wrapped up I figured it was time. Surprisingly the design came together fairly quickly.
Starting from a 3-view, I blocked it out....
One main design constraint I gave myself was that I wanted to simplify the controls. After designing the F-5 and F-20, both of which were 4-servo jets, I knew that was too much. It's doable, but it's also annoying to set up.
So for the F-16 I challenged myself to try using elevons on the horizontal tails ONLY. I could always add ailerons to the wings later if necessary, but if the elevons proved to give enough control then great! (spoiler alert: they worked!)
Here is a progress shot from the first weekend working out the design:
Here are a few shots of putting the first one together: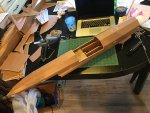 And here's the first prototype assembled:
You can see the elevon servo wires snaking on the outside. I completed the build before knowing exactly where I wanted to put the servos.
About a week later the first prototype took to the sky:
If you can believe it, I didn't need a single click of trim; it flew awesome!
After a few test flights I determined it was a bit nose heavy, and I couldn't shove the battery any further back, so I went to the drawing and moved the EDF about two inches aft. That gave me enough headroom in the airframe weight to put the battery in a comfortable place and get the CG that I wanted.
THEN Flite Fest Ohio 2018 was looming ahead, so I decided that would be the perfect place to unveil it to everyone:
Something about this design just, "clicked". The A-4 Skyhawk is my favorite little jet - it's the first jet I can remember seeing when I was a kid, and my dad showed me the Blue Angels "Dreams" music video from the 80's - but this F-16 is stealing the show right now. It's more aerodynamic, has a better CG balance, simpler servo setup, and just performs better all around. Yes, it's a bit more involved to put together and it takes one more sheet of foam (5 vs. 4), but it's SO rewarding! And it's SO fun to fly!
Which brings us to now: "WHERE ARE THE PLANS??!!??"
SP0NZ will be reworking the plans, making them readable for everyone, and I'll have a few select builders checking them too, before releasing them in the wild. I have a bad habit of sending out plans and IMMEDIATELY finding something I need to change.
I may release a set of beta-plans, after I get some more eyeballs on them, but please be patient in the meantime regardless. No one wants you all to start playing with this jet sooner more than ME!
Finally, here are the specs:
Wingspan: 30"
Length: 48"
Power: 70mm EDF (12-blade 4S recommended)
Suggested EDF units:
-
https://www.motionrc.com/collection...mm-12-blade-edf-4s-power-system-w-2849-2850kv
-
https://www.banggood.com/FMS-70mm-1...5-KV2750-Motor-For-RC-Airplane-p-1023640.html
-
https://www.banggood.com/QX-Motor-Q...27-2849-2600KV-Brushless-Motor-p-1094622.html
Battery: 2500-5000mAh 4S
ESC: 80A (recommended)
Control: Two servos, Elevon tails
Build video time-lapse:
And that's that! Hope you like it!
Last edited: