I challenged myself today, inspired by all the vids of seeing you guys fly the SNOT out of your machines. Got me thinking I need to push myself harder, with that is always a price. No vid because I wanted to practice some before I subjected you all to half a$$ footage.
The Good, The Bad, and The Ugly, plus some more good
The good is the fact that I had 3" of powder to play with the floats on the Sportster. Got some take off and landing practice, did break a 10x45 prop in a nose over on the first take off but was quickly changed. Found out some right rudder really straightens out the trajectory for take off, and did a couple landings smooth as butter. While in the air I got 3 decent flat spins and some sick inverted, not figure eights yet but some turns in both directions. First pack done!
Second pack was much of the same as far as aerobatics, some snappy rolls and some lined up loops, the low passes were awesome and coordinated with turns involved so I am getting used to keeping the plane at lower altitudes with out being nervous of crashing. Being that I was flying hard and pushing limits, started doing rolls and knife edges closer and closer to the ground... to bad there was no film on this. Battery getting low, one more knife edge and bring it home. Then I pulled out of the knife edge, by pulling up and not rolling, which comes the bad...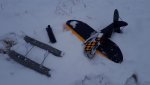 So this will be the end of the Sportster, even if I fix it, it will be ugly, but out of this comes some good. Although i have to make a new firewall again to fix the pod, I didn't break the prop. More good, I can add this to my VTOL list. Even more good, I now have 4 servos to play with, 2 of which will go into the Goblin. And this gives me more confidence in my aerobatics abilities to play with on the Bushwhacker.
In conclusion, am I upset? Not at all! I see this as a success, got my take offs and landings down, tried the flat spins a few times which amazed me that I got it, inverted and knife edges have skilled up a notch or two, plus more servos to maiden the Goblin. It's a great day.
Thanks for reading