Building Fool-Flying Noob
Fantasy Aircraft are very... AWESOME. ...and typically hard to get to work. (for me.)
My son picked out a little foam rubber launched glider about as big as my hand before school ended, we both agreed it looked pretty cool.
Action Shot! of the IWA X-Stream 5:
Shudder effect shows two craft, it's that FAST!.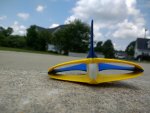 Before he spent the summer with his mother i asked if he would like to have Daddy try and build a big size RC one. He smiled a big grin, YES!
After the original crafts title and the inspiration, I will call this the
FDM Logan X-stream 6
(for his age).
Now he's back and Daddy spent the second half of summer with other projects. This challenge is a great excuse to get moving on this project. The thing about this project is I know 2 things. 1. This one flies 2. Where it's CG is.
That two-legs up onto the horse. I spend some time this last week and worked up some plans. It appears an important part to this plane will be paying attention to apparent Angles of attack.
Finally, I came up with 3 sheets. This is an Alpha build, and if you are adventurous I welcome you to please try it with me. I will use these plans to build a glider version and test/confirm CG. and use it to work out servo locations.
BUILD PLANS
Sheet 1 - Alpha
Sheet 2 - Alpha
Sheet 3 - Alpha
Components:
Pusher C-pack with 10x4.7 prop.
4-9g servos
2200 mAh battery,
Estimating weight of 320g. Right now I'm not sure where all the control surfaces need to be.
Rudder, and Ailerons of course, but the Elevator, it has no easy location. I have the plans printed, so building will happen this coming week!
I will update the plans and big step build pics here. detailed blog will be in posts below some choice pieces will be edited here.
BUILD Pics
Cutting:
See this post
Forming Wings:
See this post
Fuselage:
See This Post
Ready for maiden"
Ready in this post
Maiden Video:
Project Takeaways:
(Stop Start Continue)
Take-away from the Alpha design:
The slots through the fuse made it far more fragile than it looked.
The cockpit and fuse shape was good.
The upper wing shouldn't have been turned down neg. AoA. but should have flat-ish angle. with almost rhomboid cross section (I'm thinking iron.
@kilroy07
- fist bump)
As with all things, feedback is a gift, and I would love your thoughts, ideas, and advice.
What does all this mean?
Time to re-design and rebuild.
Clark Y on the front and bottom wings, and the I will have to figure out something for the upper wing.
I will need to adjust the fuse/wing interaction.
I suspect Differential thrust with 1806 A packs would work well.
Last edited: